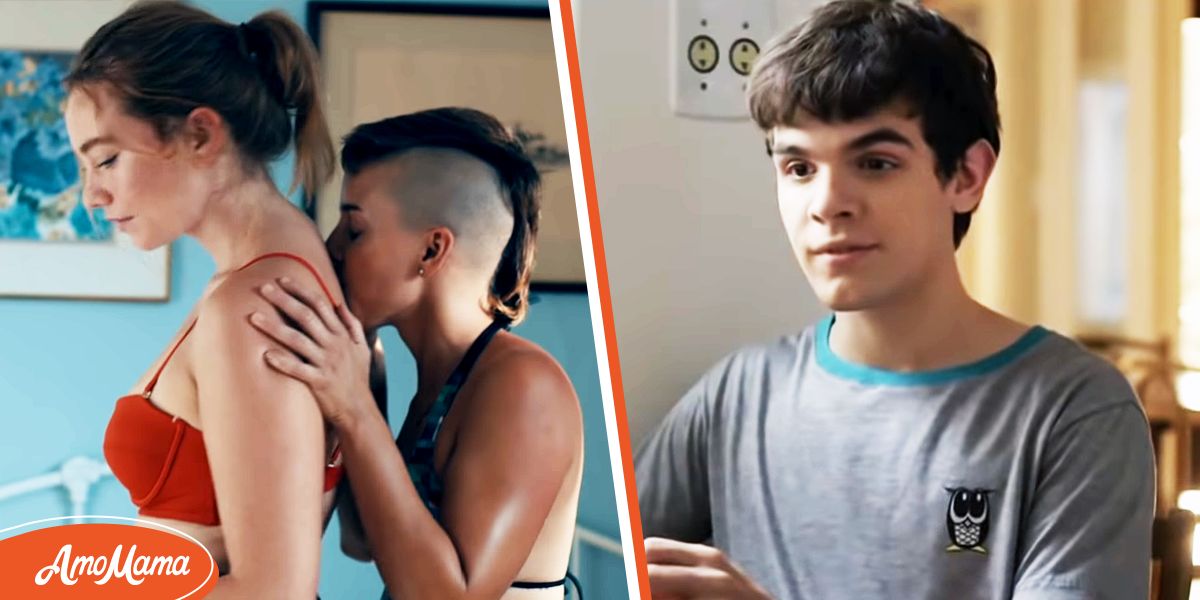 Malic White and Jessie Pinnick in "Princess Cyd" | Ghilherme Lobo in "The Way He Looks" | Source: Wolfe Releasing | Vitrine Films
"Love, Simon," tells the touching story of a closeted adolescent, and the movie joined a wave of coming-of-age love stories that also aimed to represent the LGBTQ community. So, if you enjoyed the 2018 film, you'll enjoy these seven movies like "Love, Simon."
Love stories have existed since before the invention of colored television and have often followed the romance between a man and a woman. However, thanks to movies like "Love, Simon," its predecessors and its successor, LGBTQ romance movies have increased.
In 2018, Nick Robinson starred as Simon Spier in director Grey Berlanti's coming-of-age film. However, the audience is soon made aware of the film's true nature — a gay love story — as the protagonist battles keeping his sexual orientation a secret while falling in love.
Fans of the movie loved it because even though it was one of the first gay teen romantic comedies to get a major studio release, it was funny, heartwarming, and showed how everyone had relationship or friendship issues.
'Call Me by Your Name'
In 2017, Timothée Chalamet shot to fame for his earnest portrayal of a teenage boy who falls in love with an older man — played by Armie Hammarr— during a summer vacation in 1983.
The love story inevitably ends in heartbreak for Chalamet's character; his first love experience also triggers the protagonist to accept his sexual orientation.
'Alex Strangelove'
The following year, Daniel Doheny took center stage as Alex Truelove in "Alex Strangelove," a straight-A student consumed with school and his friends. And, like "Love, Simon," Alex's sexuality is tucked deep inside a closet.
For just over an hour, viewers watch Alex's life unfold and how he plots to lose his virginity to his girl-next-door girlfriend. However, deep down, Alex is in love with another boy at his school.
'Princess Cyd'
In this 2017 movie, Cyd Loughlin (Jessie Pinnick) has her sexuality awakened after she meets and grows feelings for another local girl while visiting her aunt for the summer in Chicago.
However, their blossoming relationship leaves Cyd with questions she eventually answers with the guidance of her open-minded yet religious aunt and a group of humorous and well-intentioned queer adults.
'Pariah'
In "Pariah," a worried African-American mother attempts to steer her daughter clear of her openly lesbian friend's influences by encouraging her child to befriend a more palatable church girl.
However, to the mother's dismay, upon spending more and more time together, her daughter and her seemingly traditional friend develop feelings for each other, leaving the movie's protagonist with a difficult decision to make.
'Geography Club'
In 2013, "The Breakfast Club" was reimagined with a queer twist in this film, co-starring Cameron Deane Stewart, Justin Deeley, and Nikki Blonsky. "The Geography Club" follows a group of high schoolers navigating their sexuality.
However, they eventually find refuge in another after creating The Geography Club, where they safely open up about their life troubles and encourage other students in their school to embrace their true identity.
'The Curiosity of Chance'
While Simon is plagued with choosing between being true to himself or keeping a part of his identity hidden in "Love, Simon," the lead in "The Curiosity of Chance" is not faced with the same dilemma.
Not only does Tad Hilgendrink play a proud gay character, but he also has the support of his friends, who help his fight against homophobic high school bullies.
'The Way He Looks'
"The Way He Looks" adds an international touch to the premise of gay love stories as this Spanish film tells the story of a blind Leonardo who has his world turned upside-down — mainly in a good way — after meeting and falling in love with Gabriel.
In 2019, Noémie Merlant and Adèle Haenel played lovers in "Portrait of a Lady on Fire"; however, "Blue is the Warmest Color" is an excellent choice for those wanting to watch more films about high school romances.
Read More: World News | Entertainment News | Celeb News
Anomama