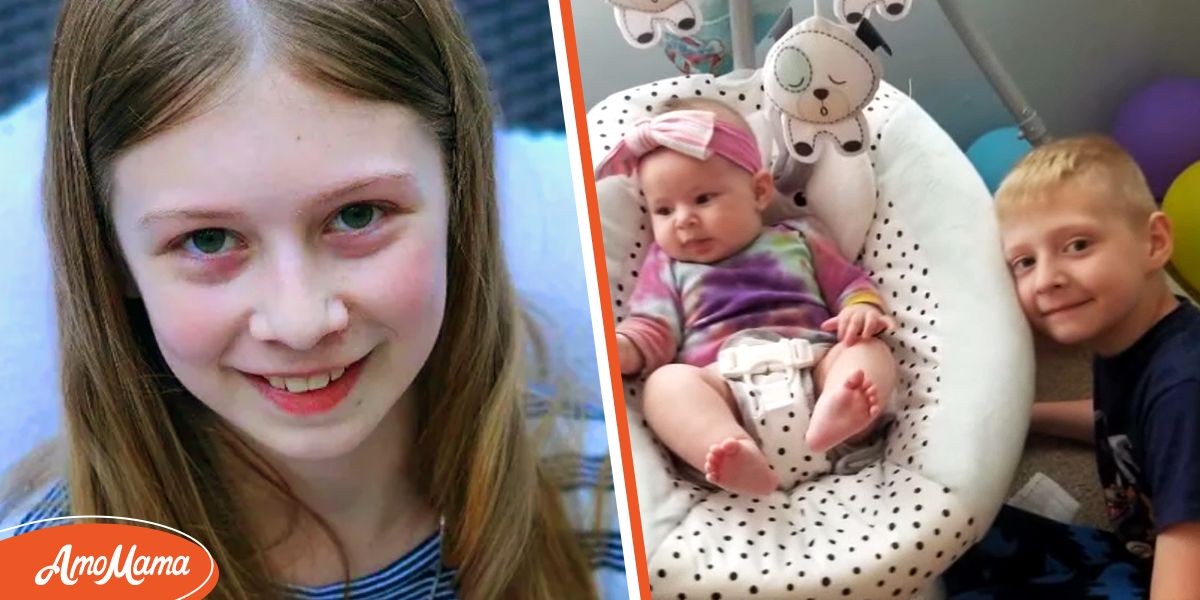 An eleven-year-old girl's entire life was changed one Saturday morning when her home went up in flames. As she tried to become the caretaker, as she had many times before, she called for help and became the only inferno survivor.
Eleven-year-old Lulu from Wallingford, USA, has been hailed as braver than most for her heroic act when her home went up in flames with her entire family inside. Unfortunately, her rescue efforts were in vain.
The fire's youngest victim was four-month-old Valentina, who died alongside her mother, father, and sibling. Lulu escaped the fire through a window, but the rest of the family did not make it out alive because every other exit had been barricaded.
Seven-year-old Sebby and their 40-year-old mother, Lana Stewart, were the other siblings that Valentina died alongside. Stewart's sister, Adrea Sloniki, said she loved being a mother above everything else.
What Happened to the Family?
First responders worked tirelessly to help the family, which Sloniki was highly grateful for. However, they could not support the family as investigators ruled this case a homicide.
When Stewart's body was found, she had multiple sharp force wounds. Sloniki confirmed that her family had suffered domestic violence at the hands of her brother-in-law, Salvatore Ragusa, and his mental health issues.
Sloniki shared that Ragusa suffered from schizophrenia and talked about his demeanor. She shared:
"He went from a loving father to someone no one would ever have imagined."
Sloniki also confirmed that Ragusa would begin a slow spiral into an inadequate mental space and become completely out of control before he would consider seeking professional help.
Investigators believe it was Ragusa, also found dead inside the home, who set the fire that killed his family. Ragusa had a previous arson charge when he set Lana's apartment alight in 2019.
As Sloniki grapples with losing her sister, niece, and nephew, she has confirmed that they will be missed but remain forever in their family's hearts. Lulu is set to be adopted by her family and is surrounded by their love and prayers.
What Will Happen to Lulu?
Sloniki has expressed pride in Lulu for her bravery in saving her younger siblings. Sloniki confirmed that as Lulu grew up, she noticed her family's precarious situation and often took on a "caregiver" role.
Lulu had escaped her burning home on Saturday morning, and once, she had planned to run back into the flames to save her younger siblings. Unfortunately, she was unable to get to them.
Lulu's brother and sister died from smoke inhalation and asphyxiation, as did Ragusa. Stewart died of multiple sharp force injuries on her body. The family dog also died in the fire, which has been ruled a homicide.
Since the fire, plans have been made for Lulu and how she will continue living. Sloniki has set up a GoFundMe page for her niece, on which the statement reads:
"This fund will be used directly towards her recovery, in addition to her education. It has come to our attention that she will need private schooling and tutoring to be able to catch up to grade level. Overall, we just want to be able to offer her the best life possible and set her up for success in the future."
The page was created two days ago and reached over $30,000 of its $200,000 target. Sloniki knew many people were heartbroken by the loss and said that any small donation would mean the world to them.
Sloniki set up the account with an initial target of $10,000, covering Lulu's schooling for a year. However, when she reached the mark, she was told if she didn't raise it, the page would shut down.
Lulu's aunt then decided to raise the target to $200,000 to cover all of Lulu's expenses for the foreseeable future. She shared:
"So what the heck, let's try to raise that amount, be a village, and take most of the financially off the family so they can focus on the love and care of Lulu."
The family in question is the family who will adopt Lulu now that she has been left with nobody. Many people who donated left sweet messages with words of love and encouragement for little Lulu.
Unfortunately, little Lulu is not the only person who has lost her family in a fire. In fact, many families suffered a similar fate during the wildfires that swept through Hawaii last month. Read a story about a boy who passed away with his dog here.
Read More: World News | Entertainment News | Celeb News
Anomama