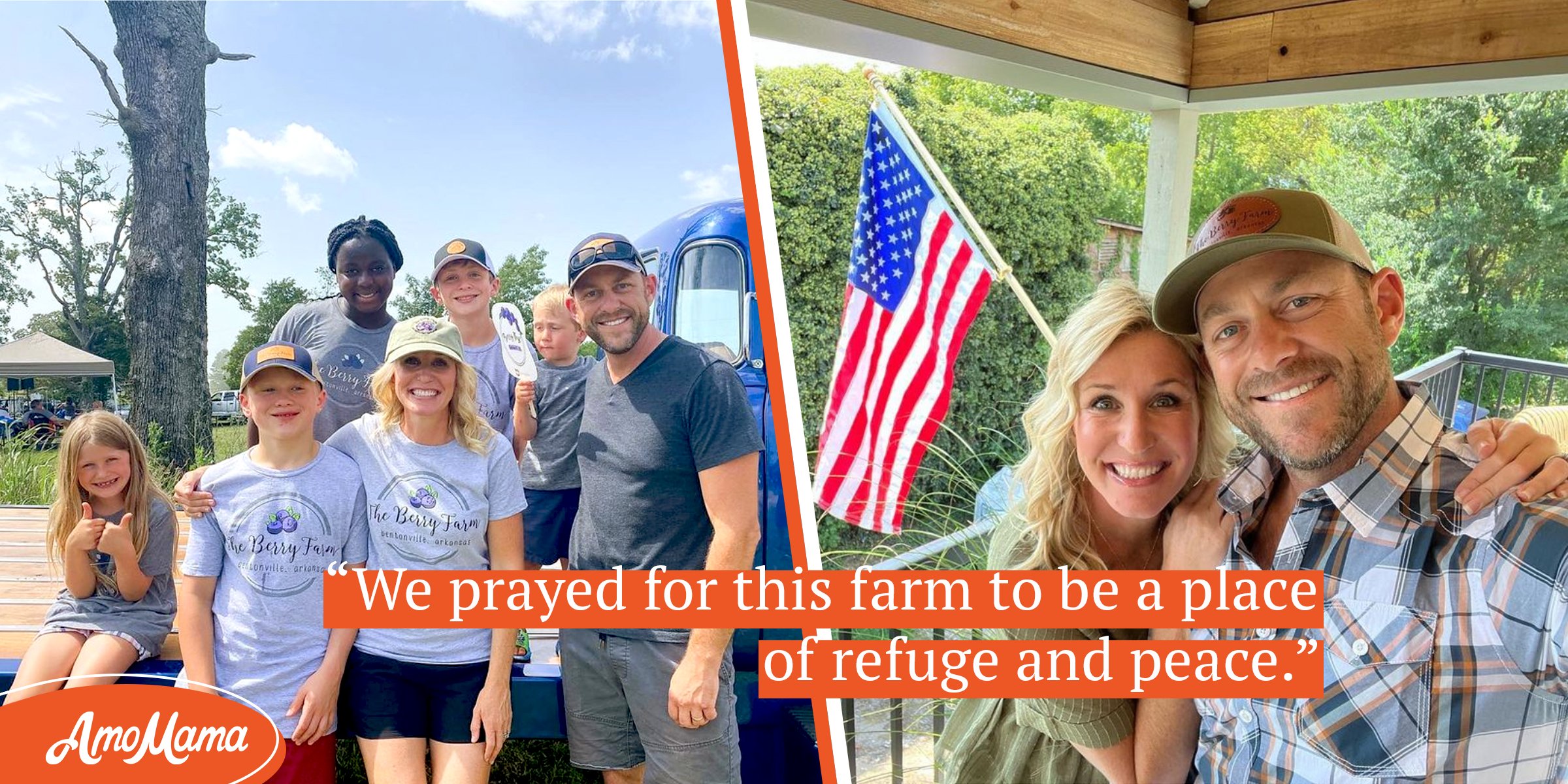 Jenny, Dave and their children | Jenny and Dave Marrs | Source: instagram.com/jennymarrs
It took some time for HGTV stars Dave and Jenny Marrs to become biological parents. Even when they opted to adopt a daughter, they waited for over six hundred days before her arrival. Today, the couple enjoys family life with five kids on a farm that is over a hundred years old after quitting their jobs to pursue their dream as home renovators.
HGTV stars Dave and Jenny Marrs are blessed with a beautiful family and an enviable marriage. But it started decades ago when they set the template for their fairy-tale life through discipline, commitment, and consistency.
Although Jenny, a designer, and home renovator, was born in 1979, and her husband, a builder, and professional craftsman, was born in 1980, the age difference has not affected their love story. Instead, the "Fixer to Fabulous" stars have proven that their friendship is second to none.
It all began in 2002 when they met. Dave, a Colorado native, was a new employee at Newell Brands' Rubbermaid, where Jenny worked. Despite being in different departments, they became close, and their relationship blossomed into a romance.
Soon, the couple had to be apart, as Dave's job required that he travel frequently. Still, this did not deter them from dating; they continued with a long-distance relationship and ended up as husband and wife in a sweet wedding ceremony on April 2, 2005.
As the years rolled by, the duo constantly remembered to celebrate their love. In 2017, during their 12th anniversary, Jenny shared a throwback image of them in their wedding outfits.
In the image, she donned a bustier bridal dress with a flowing veil, while her husband was in a suit and they were photographed locking lips. The home designer laced the snap with a heart-melting appreciation of their time together, recalling the memorable event.
More than once, the home renovator has recounted their journey to becoming a construction couple. Jenny's "These Walls" blog post explained how they got their hands on a major project that turned their lives around.
The Marrs family had visited an old farmhouse contracted for demolition. The couple agreed it was in an awful state but knew the property needed to be saved.
First, they moved the dilapidated farmhouse to another destination because it was fast becoming a parking lot. Then they worked on an empty plot around the area (it had been purchased by the constructor a few years ago).
The farmhouse originally built in 1906 was restored to a habitable place. This was not only the couple's major project, but it became their home.
Dave and Jenny Marrs Quit Their Jobs to Construct Homes
Two years after his white-collar job at Newell Brands' Rubbermaid, Dave relocated to Arkansas, where he tenaciously pursued his passion for construction. During his younger years, he enjoyed building log cabins with his dad. According to Dave,
"I did the corporate world for two years, which was enough. It allowed me to meet Jenny… but I just got sick of it."
Following his decision to move, Jenny came on board from Florida. She agreed to try out Arkansas for some years, forsaking her former job and upholding a devotion to building and decorating. However, she did not immediately dump the corporate world. The designer worked in marketing and sales for some years before joining her husband's construction company, Marrs Developing.
Dave and Jenny's first time doing their home renovation show was in November 2017, titled "Almost Home." It involved eight-hour-long episodes and a rigorous six-week timeline.
Like many great businesses, it took some time before the company began to make waves. But throughout the beginning stage, the couple was supportive of each other. Jenny jokingly shared:
"We were broke, and I had a real job. He was just starting, so I was the 'sugar mama.'"
More than sixteen years after quitting their jobs, the couple emerged as one of the beloved stars on HGTV. Their "Fixer to Fabulous" show has gained thousands of viewers since its inception. The couple focuses on overhauling houses while living on their farm and running a blueberry business.
Dave and Jenny's first time doing their home renovation show was in November 2017, and it was then titled "Almost Home." It involved eight-hour-long episodes and a rigorous six-week timeline.
The couple adapted to the routine and continued to put in the work. But it was not until October 2019 that the show was aired. This time, the network changed its name to "Fixer to Fabulous."
Jenny and Dave Marrs Are Hands-on Parents after Waiting for Years
Jenny has been open about her journey to motherhood. In one of her blog posts, the home designer revealed that she struggled with infertility for years. Eventually, they resorted to adoption, but the process was tedious, so they tried another fertility treatment.
According to Jenny: "We decided to make one last-ditch effort with fertility treatments and finally became pregnant with twin boys in the fall of 2009. They were born prematurely…but are now perfectly healthy and strong. The first of our four miracles."
As a new mom, Jenny felt overjoyed by her twins, Nathan and Ben's arrival. Before having the babies, she purchased special gifts— hats they wore on their first Christmas.
Following their twins' births, the couple did not give up on the quest to expand. They tried to adopt from Russia and Ethiopia, but it was futile.
In 2013, they adopted daughter Sylvie from the Democratic Republic of Congo, but it would take more than six hundred days and the birth of their youngest daughter Charlotte before they brought Sylvie home in 2014. A few years later, another son, Luke, joined the family.
So far, the couple has been juggling their work and parenthood without letting any of these suffer. However, they prioritize their kids and never miss special occasions in school.
Their interest in parenting has afforded them the time to spot their kids' talents. Although all five have appeared on the "Fixer to Fabulous" show, not all are interested in home designs. Nathan takes after his dad as a builder, Ben is an artist, Sylvie loves to cook, and Charlotte loves to set up things.
Amid their different talents and personalities, the couple keeps them united and grounded. In return, their kids are happy with their life on the farm. In June, Jenny shared a heart-melting photo on Instagram, leaving fans to spot the genuine smiles on the faces of each family member from the youngest to oldest. The accompanying caption read:
"We prayed for this farm to be a place of refuge and peace."
Even with a popular show and busy hands, the "Fixer to Fabulous" couple always have enough time to spare for their five kids. The couple is family-oriented and delights in sharing charming photos of their brood online.
Read More: World News | Entertainment News | Celeb News
Anomama