Georges LeBar and RuPaul | Georges LeBar and RuPaul's house | Source: Getty Images | https://www.youtube.com/@Archdigest
RuPaul gave a glimpse into his magical mansion, which he shares with his husband, Georges LeBar. The newly acquired house boasts a state-of-the-art design by AD100 designer Martyn Lawrence Bullard.
The "RuPaul's Drag Race" host and his rancher husband made Beverly Hills their new love nest. He recently opened up his house to Architectural Digest and gave them a detailed tour.
RuPaul gave designer Bullard free reign to transform the residence, built in the 1980s, and he turned it into a magical abode fit only for the "world's most famous and celebrated drag queen."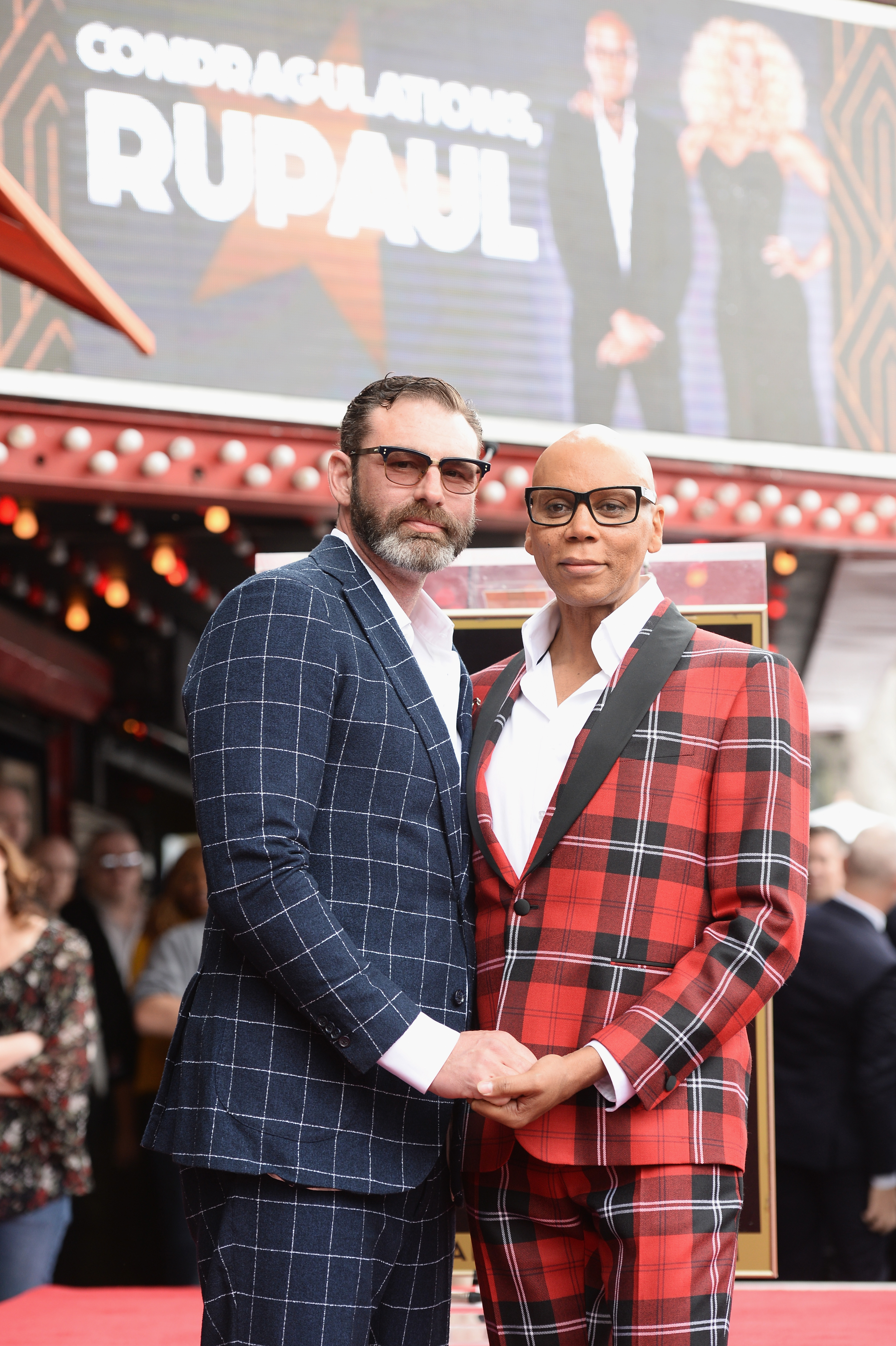 Drag queen RuPaul (R) and his husband Georges LeBar attend RuPaul's star ceremony on The Hollywood Walk of Fame on March 16, 2018 in Hollywood, California | Source: Getty Images
The shiny metallic double doors open into a powder-pink hallway dominated by a grand staircase that leads to the second floor.
To the right, a formal living room gives an airy vibe with its vast arched glass windows as a golden chandelier hangs over jewel-toned velvet sofas.
26 disco balls of different sizes crown the monochromatic ballroom. "We love music; we love to dance," RuPaul said of the area.
Black and white framed photographs of iconic stars like Billie Holiday, Grace Jones, Eartha Kitt, and Dorothy Dandridge covered the walls and a portrait of Diana Ross looms atop the black fireplace.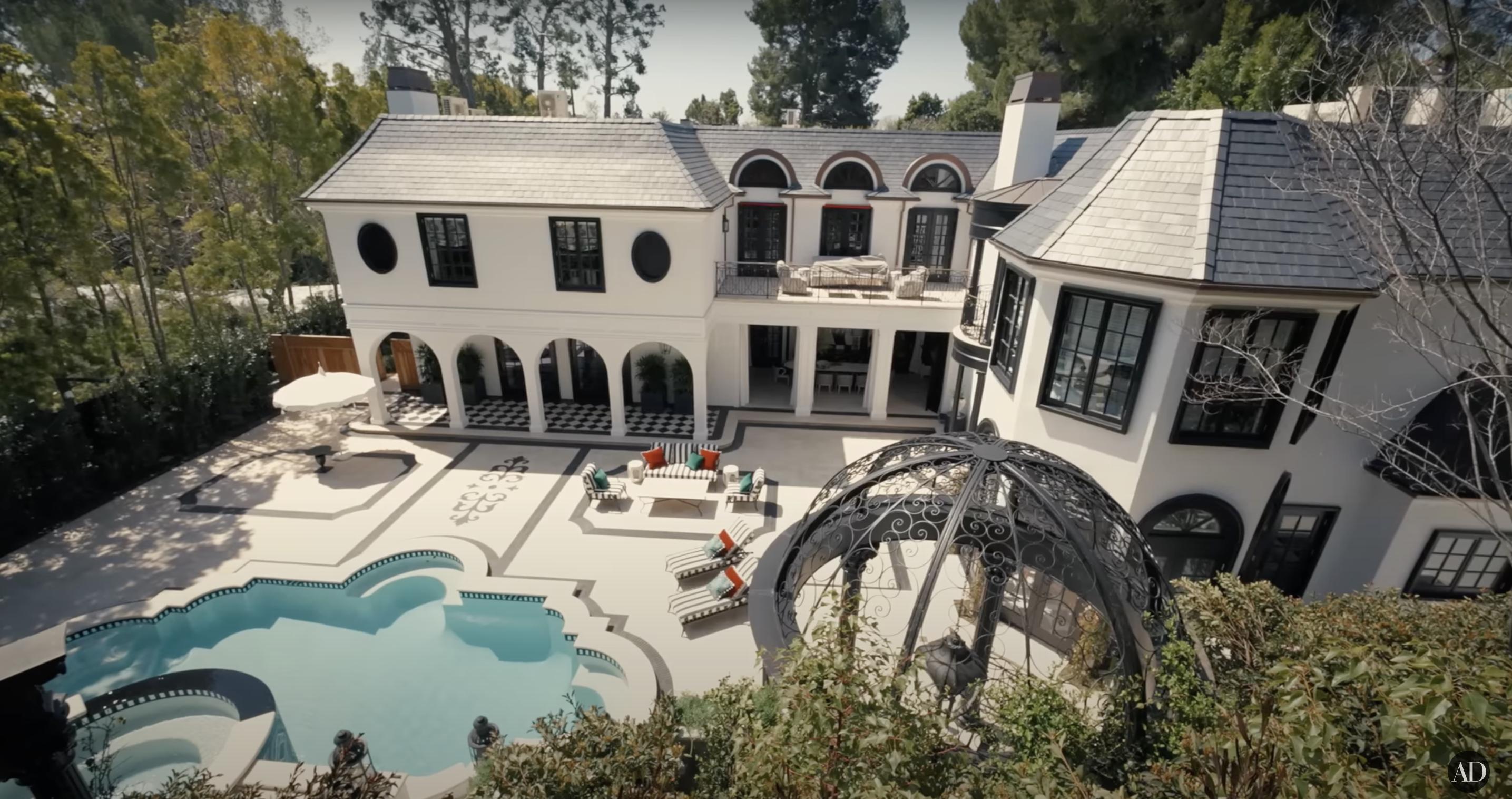 RuPaul and Georges LeBar's palatial home in Beverly Hills | Source: https://www.youtube.com/@Archdigest
Despite the enormous space in his house, he revealed he preferred to host more intimate gatherings and small parties with close friends.
The black-and-white aesthetic continues to the kitchen while splashes of gold and orange accented the room. The breakfast room chairs match the orange of the furniture around the house.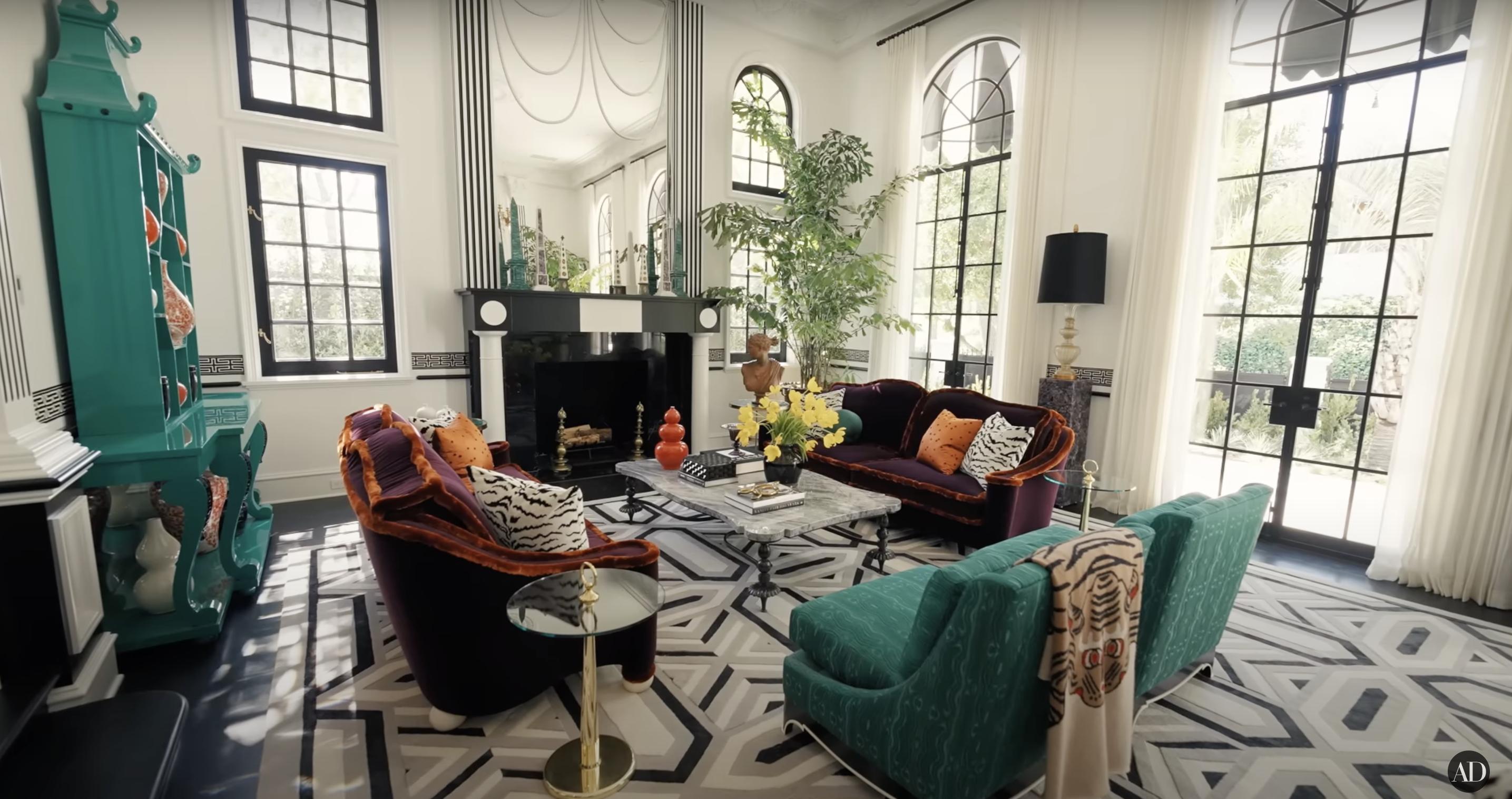 The formal living room at RuPaul and Georges LeBar's home in Beverly Hills | Source: https://www.youtube.com/@Archdigest
The couple's primary bedroom mainly comprised a four-poster bed, a gray sofa, and a daybed.
The closet contains a full-length 3-way mirror that splits a wall full of neatly organized designer shoes. The rest of his wardrobe is arranged in color-coded racks.
The magnificent property also features a pool outside where the couple could spend a relaxing day.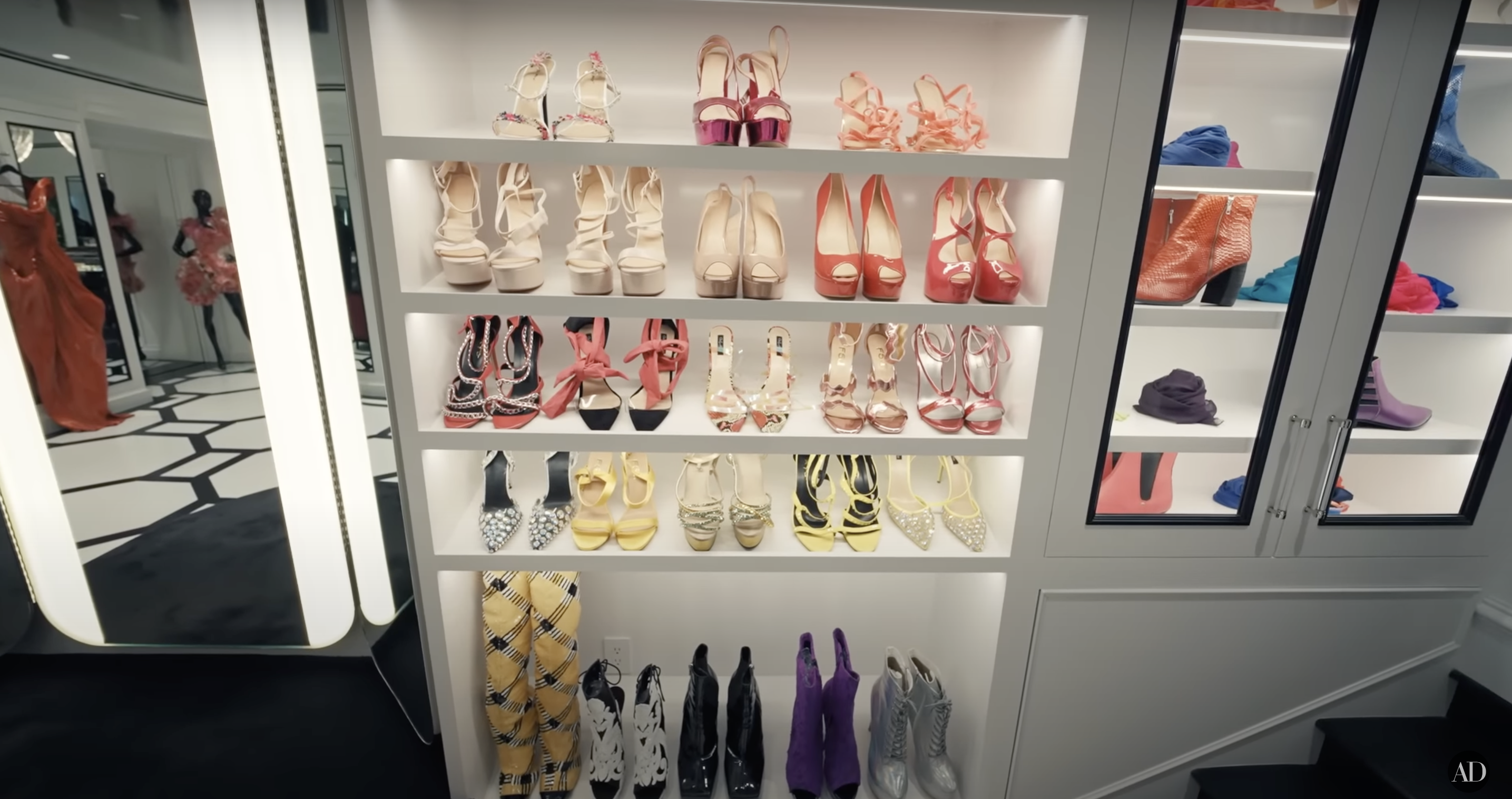 A section of RuPaul's closet in his and Georges LeBar's home in Beverly Hills | Source: https://www.youtube.com/@Archdigest
It took RuPaul and LeBar 23 years to tie the knot, on the day of their anniversary at their Los Angeles-are home in 2017. The change in political climate urged the pair to get married, though the TV producer was adamant that "papers don't mean a thing" in their relationship. He said:
"If you're devoted to a person, nothing's gonna change that. And after 23 years, you know, hey, I know him. He knows me. I love him. He's my favorite person on the planet I've met. I've met a lot of people. I've met a lot of people. He's my favorite person."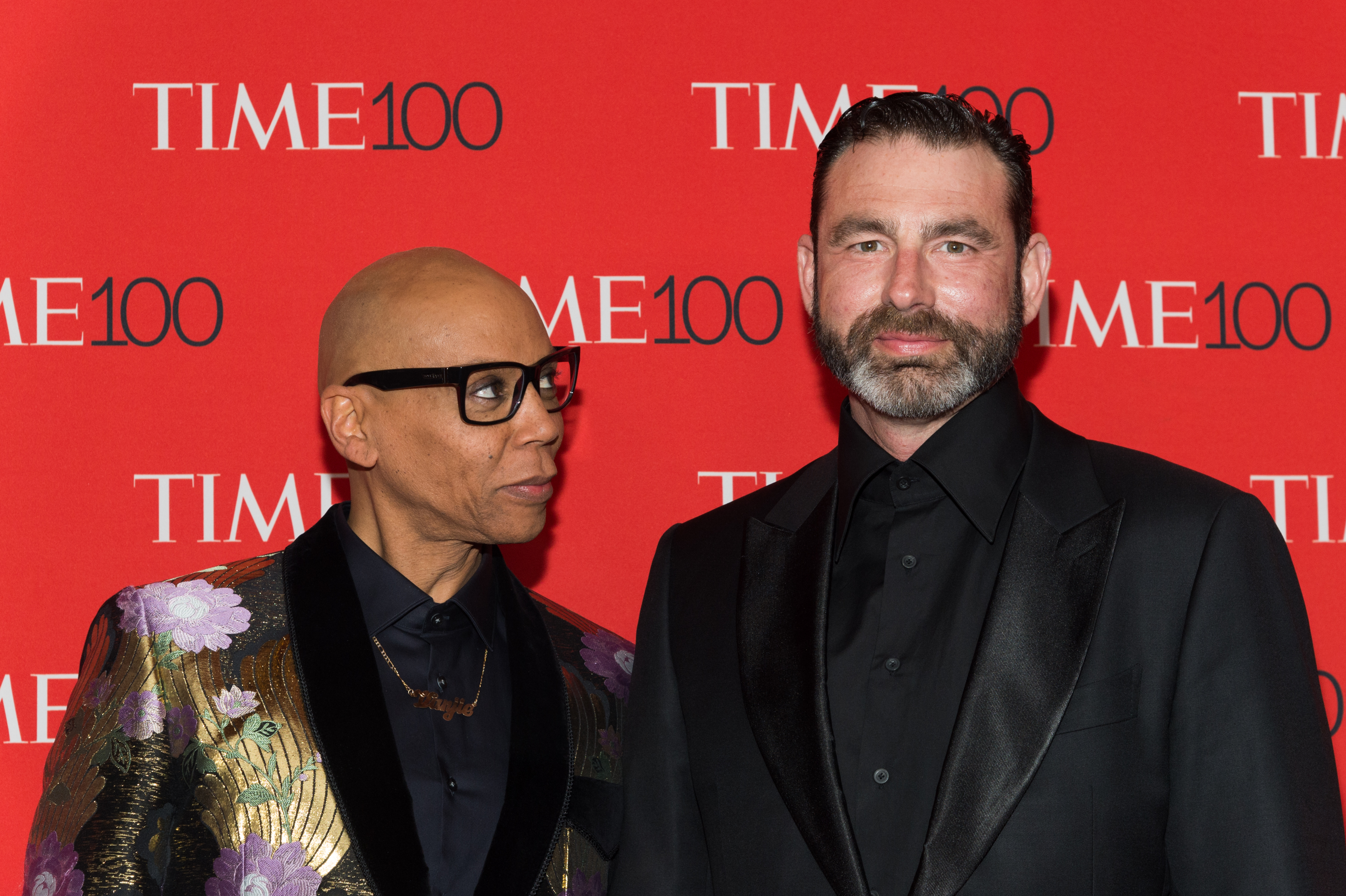 RuPaul and Georges LeBar attend the 2018 Time 100 Gala at Frederick P. Rose Hall, Jazz at Lincoln Center on April 24, 2018 in New York City | Source: Getty Images
The longtime partners met on a dancefloor in 1994, and the rest is history. They maintained a relatively intimate relationship for almost two decades and were never seen in public together.
The first time came shortly after announcing their marriage, as the pair were spotted out and about in New York.
With their marriage receiving much support, RuPaul shared a throwback photo of them on Twitter to thank the fans.
Read More: World News | Entertainment News | Celeb News
Anomama