Tori Spelling with her child. | Source: instagram.com/torispelling | youtube.com/Famous Luxury
Tori Spelling's circumstances have taken a dramatic shift. The former "Beverly Hills 90210" icon has traded her life of luxury for a modest motel room and the simplicity of an RV after realizing that her five-bedroom home, a seemingly tranquil haven, concealed a dangerous secret threatening her family's health.
In a stunning reversal of fortune, Tori Spelling, once accustomed to a life of opulence and privilege, finds herself in a dramatically different living situation. The former "Beverly Hills 90210" star has taken up residence in a motel room and an RV with her five children, a far cry from the lavish upbringing she experienced in her father's multi-million dollar mansion.
Growing up as the daughter of television magnate Aaron Spelling, Spelling was immersed in a world of affluence, residing in the sprawling 56.5K-square-foot French chateau-style mansion known as "The Manor." This palatial estate, complete with 123 rooms, 27 bathrooms, and 14 bedrooms, provided the backdrop for her formative years.
Spelling's life today bears little resemblance to the glamorous existence she once knew. A little more than a month ago, photographs captured Spelling leaving a budget motel with her children.
This motel stay comes in the wake of her ongoing divorce proceedings with Dean McDermott, her husband of 18 years, and an announcement that their marital home had been infested with mold, causing severe health issues for her family. In an unexpected twist, Spelling has traded her luxurious surroundings for the simplicity of a motel room and, later, an RV.
The actress, now 50 years old, has been seen living in a Sunseeker E450 RV in Ventura County, accompanied by her children Liam, Stella, Hattie, Finn, and Beau. Despite the challenges, Spelling's resilience is evident as she attempts to navigate her family through these difficult times.
Sources reveal that Spelling is viewing her current stay in the RV as a "mini vacation" rather than a permanent living situation, even as her financial struggles continue.
Her financial woes are not solely rooted in the mold crisis but also in reported extravagant spending habits and lifestyle choices. Allegations suggest that Spelling and McDermott's household expenses can reach up to $100,000 per month, further straining their already precarious financial situation.
Tori Spelling Uncovers the Unseen Dangers That Were Gradually Endangering Their Lives
Spelling has opened up about her family's ongoing battle with mold infestation, a hidden menace that has plagued their lives for years. The actress took to social media to share the distressing news of her family's struggle with mold-related health issues, shedding light on the often-overlooked dangers that mold can pose to human health.
Spelling's ordeal came to light when she posted a plea on Instagram, seeking help to find a lawyer who could guide her family through the legal challenges associated with their mold problem. In her post, she described their home as a place that had been "slowly killing" them for three years due to mold infestation.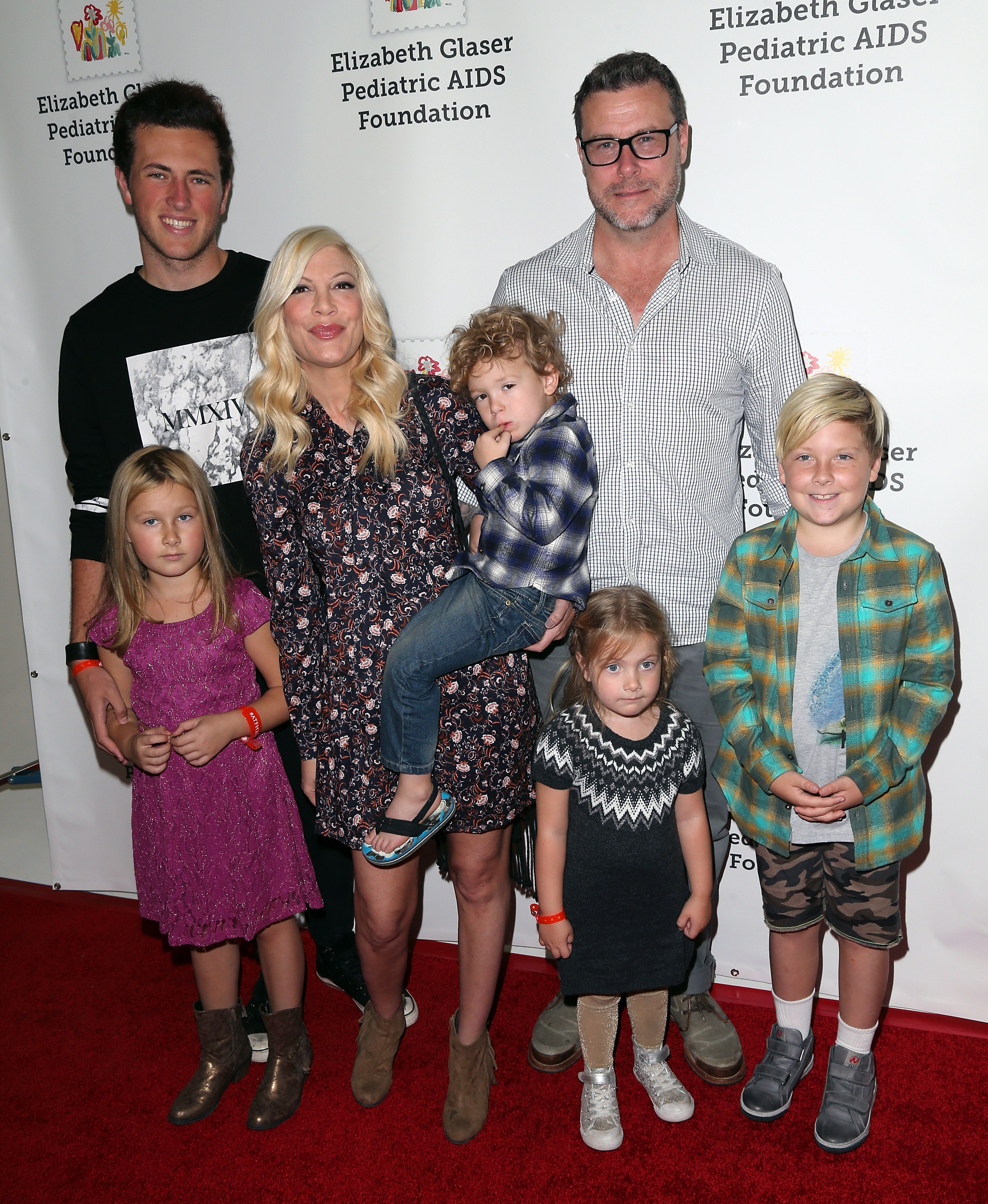 Jack Montgomery McDermott, Stella Doreen McDermott, Tori Spelling, Finn Davey McDermott, Hattie Margaret McDermott, Dean McDermott and Liam Aaron McDermott on October 25, 2015 in Culver City, California. | Source: Getty Images
This candid confession shed light on a serious issue that many homeowners might overlook or underestimate. The health consequences of mold exposure can be severe, ranging from mild allergic reactions to more serious respiratory problems. Spelling's children's health took a hit as they were repeatedly afflicted by sicknesses that appeared to be interconnected.
Respiratory infections, extreme allergy-like symptoms, and even skin rashes plagued her family, leading to an urgent need for medical attention. The revelation prompted the family to hire a mold inspector who uncovered the extent of the problem.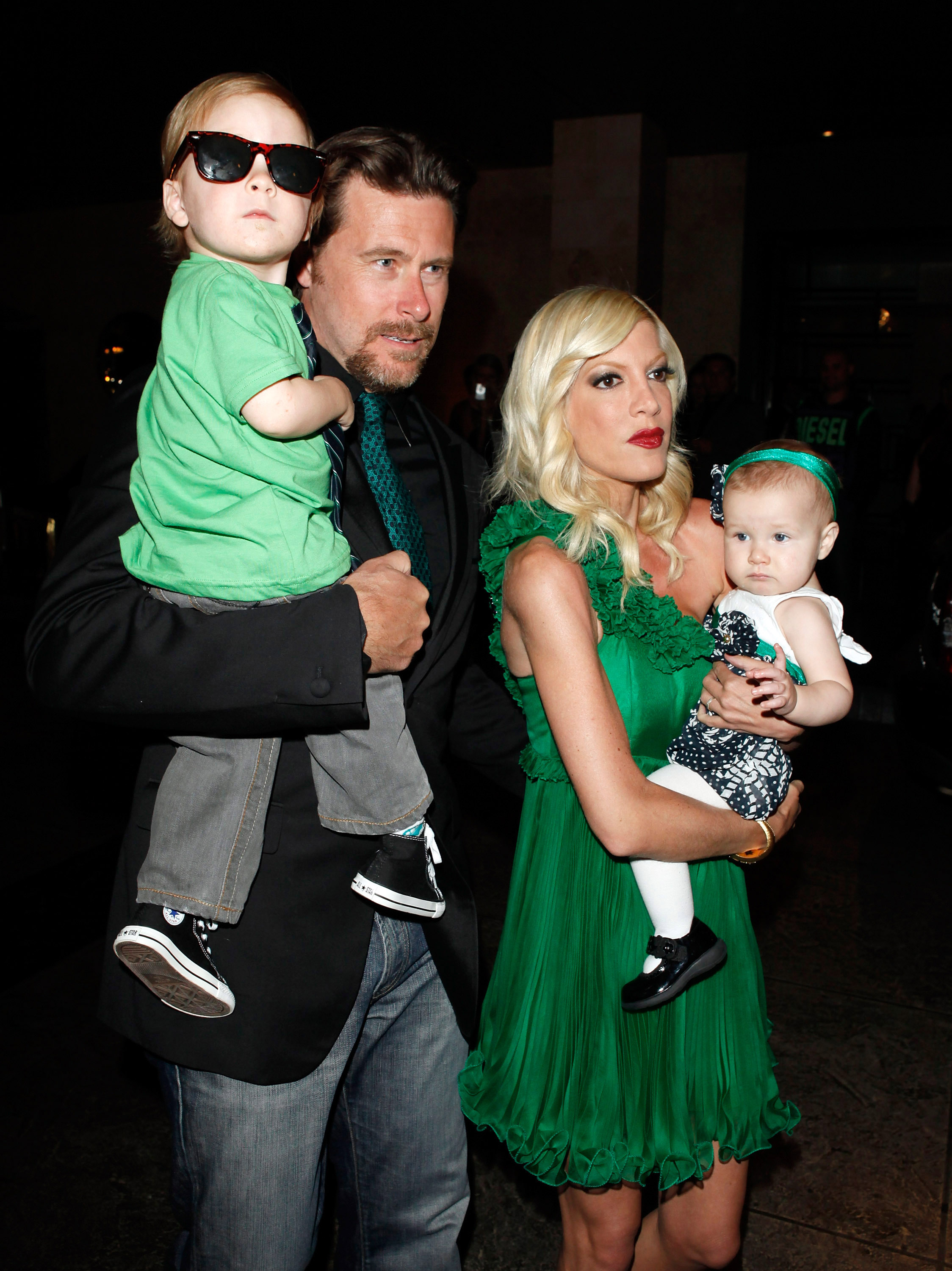 Liam Aaron McDermott, Dean McDermott, Tori Spelling, and daughter Stella Doreen on April 13, 2009 in Beverly Hills, California. | Sources: Getty Images
The inspection revealed "extreme mold" damage in their Los Angeles home, causing it to be deemed a health hazard and unfit for habitation. This alarming discovery prompted Spelling and her estranged husband, McDermott, to vacate the property and seek alternative accommodations, including living in a motel and an RV.
Mold is not just a cosmetic nuisance; it's a silent threat that can wreak havoc on health. Mold spores can trigger allergic reactions, causing symptoms such as sneezing, runny nose, coughing, and itchy eyes. For individuals with mold allergies or asthma, exposure to mold can exacerbate their conditions and lead to severe respiratory distress, even requiring hospitalization.
Tori Spelling on October 6, 2022 in New York City. | Source: Getty Images
Beyond allergic reactions, mold exposure has been linked to fungal infections like Valley Fever, which can cause flu-like symptoms, fatigue, coughing, chest pain, and shortness of breath. In Spelling's case, the health issues her family experienced underscore the serious consequences of prolonged mold exposure.
Spelling's family's struggle with mold serves as a cautionary tale, shedding light on the importance of addressing mold infestations promptly and thoroughly. Mold can thrive in damp and humid environments, making homes with water damage or poor ventilation particularly susceptible.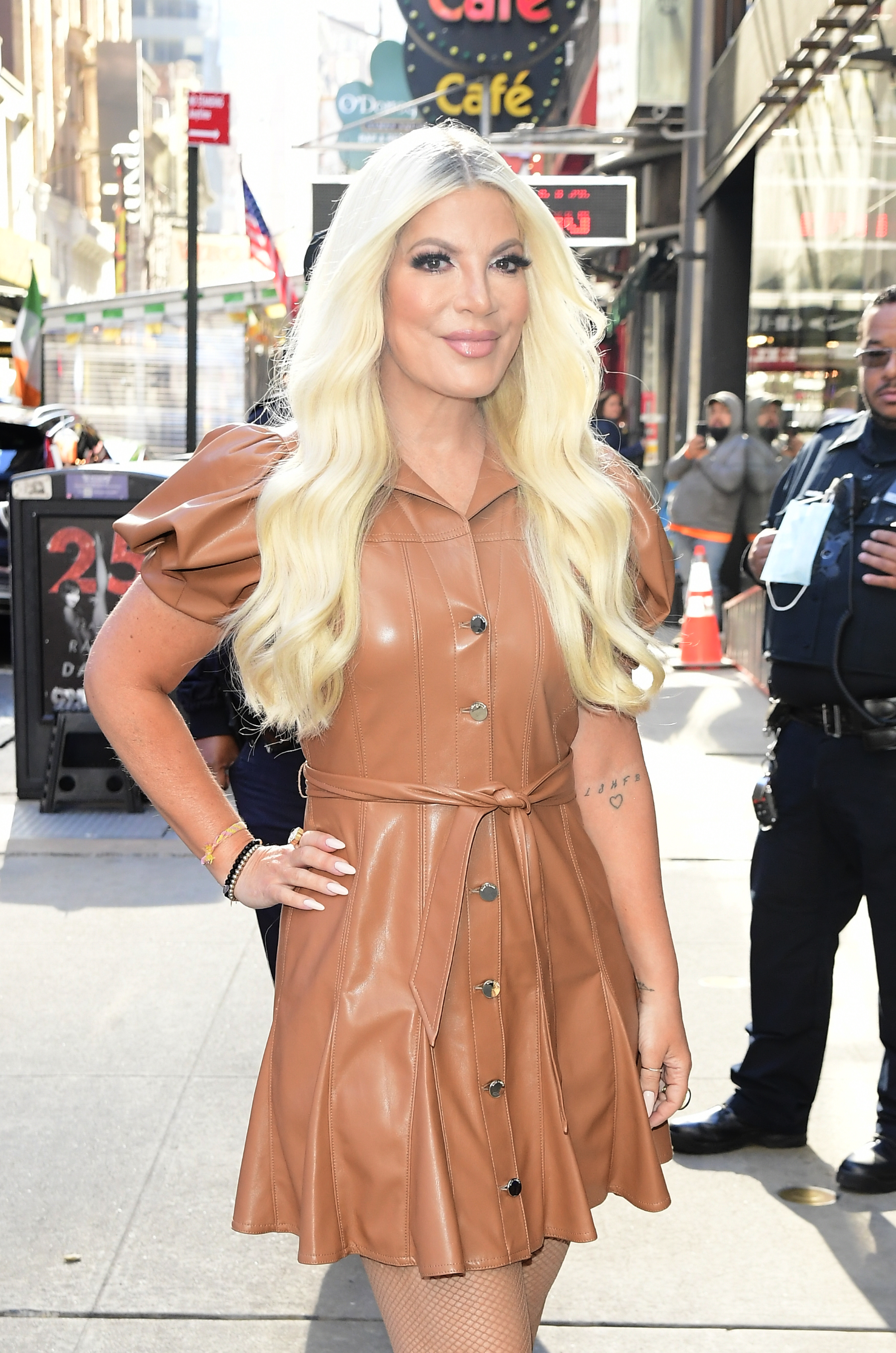 Tori Spelling on October 6, 2022 in New York City. | Source: Getty Images
Regular maintenance, prompt repairs, and professional inspections are crucial to preventing the growth and spread of mold.
Exploring Tori Spelling's Luxurious Homes Over the Years
Spelling may be known for her acting career, but she has also made a mark with her impressive real estate ventures. Let's take a closer look at the various homes that have been part of her life's journey.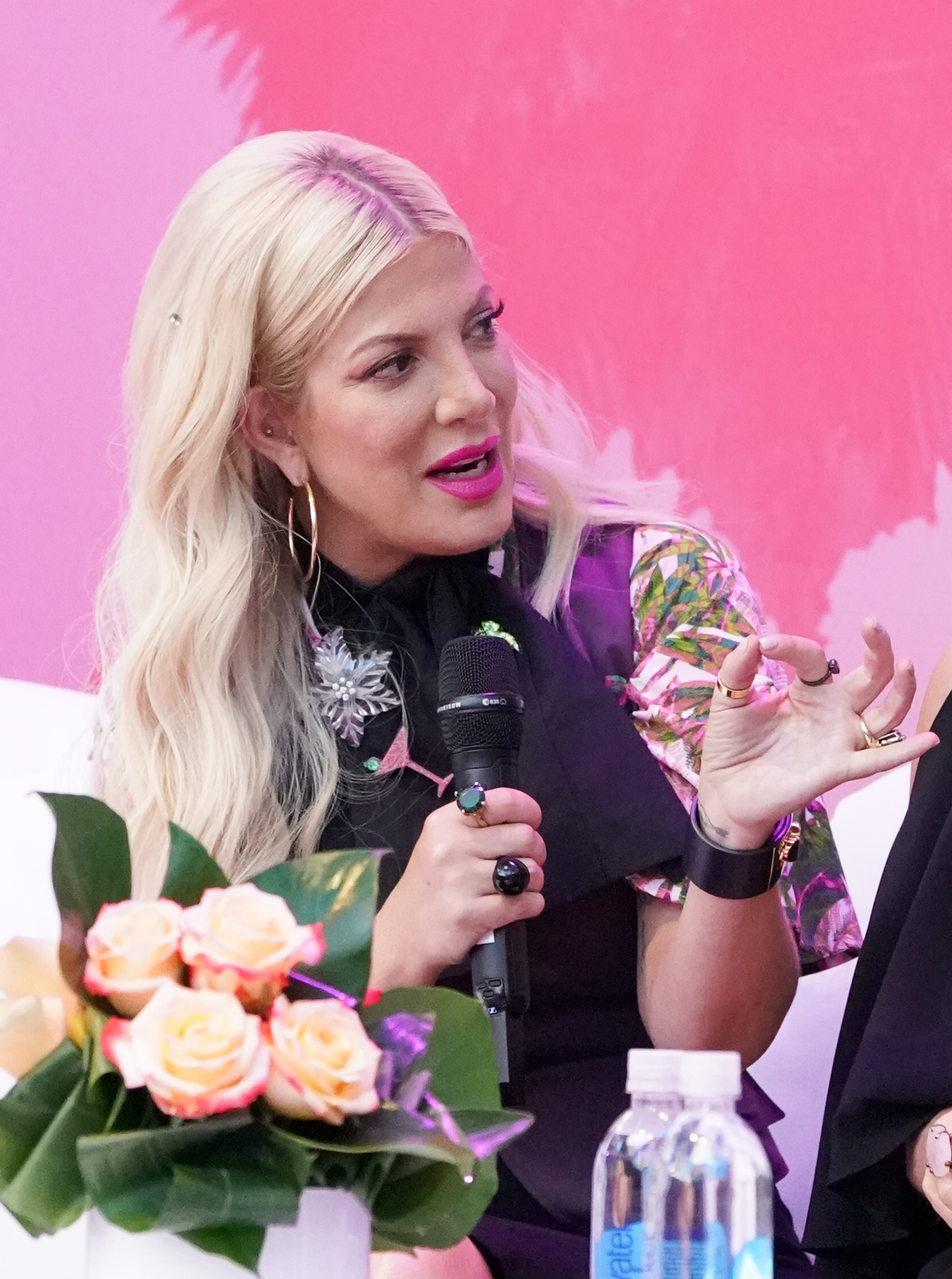 Tori Spelling during the Beverly Hills 90210 Costume Exhibit Event on August 19, 2019 in Los Angeles, California. | Source: Getty Images
Spelling's parents, Aaron and Candy, constructed a colossal mansion in LA back in 1991, making it the largest home in the region at a staggering 56,000 square feet. The estate, sitting on 4.5 acres, boasted an astounding 127 rooms. Spelling spent a brief period, from ages 17 to 19, living in this mammoth mansion.
Despite the limited time spent there, the mansion left a lasting impression on her. Spelling often mentioned how she never even explored all the rooms in the immense house, highlighting its vastness.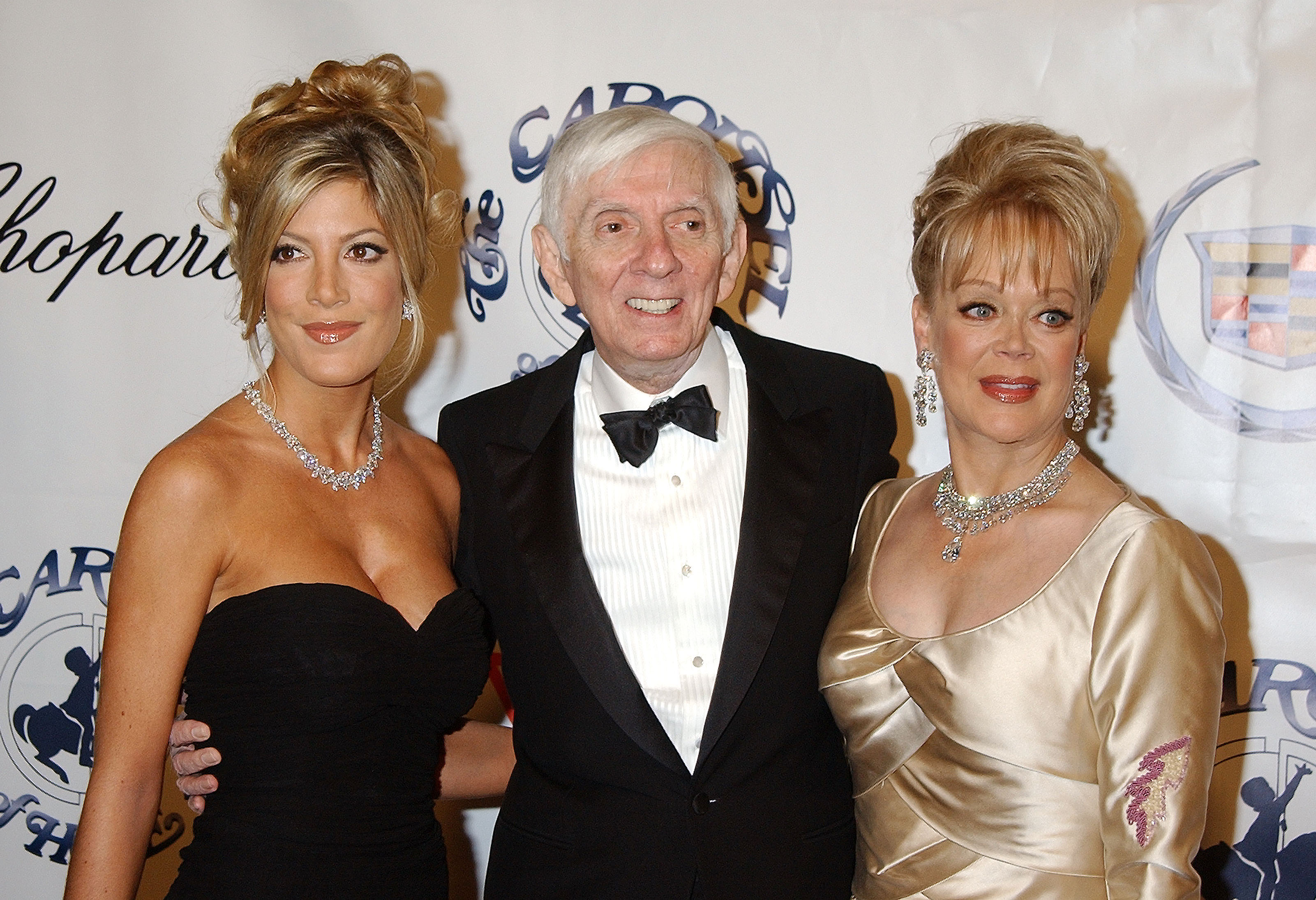 Tori Spelling, Aaron Spelling & Candy Spelling in Beverly Hills, California. | Source: Getty Images
Named 'The Manor' or 'Candyland,' this mansion was a veritable small town with extensive living spaces that included a doll museum, barbershop, bowling alley, bar, billiards room, arcade room, wine cellar, and more. The mansion comprised 14 bedrooms, one of which was over 7,000 square feet.
Despite its grandeur, Spelling described the mansion as warm and cozy. It was eventually sold in 2011 for an astounding $105 million, five years after the passing of Spelling's father, Aaron.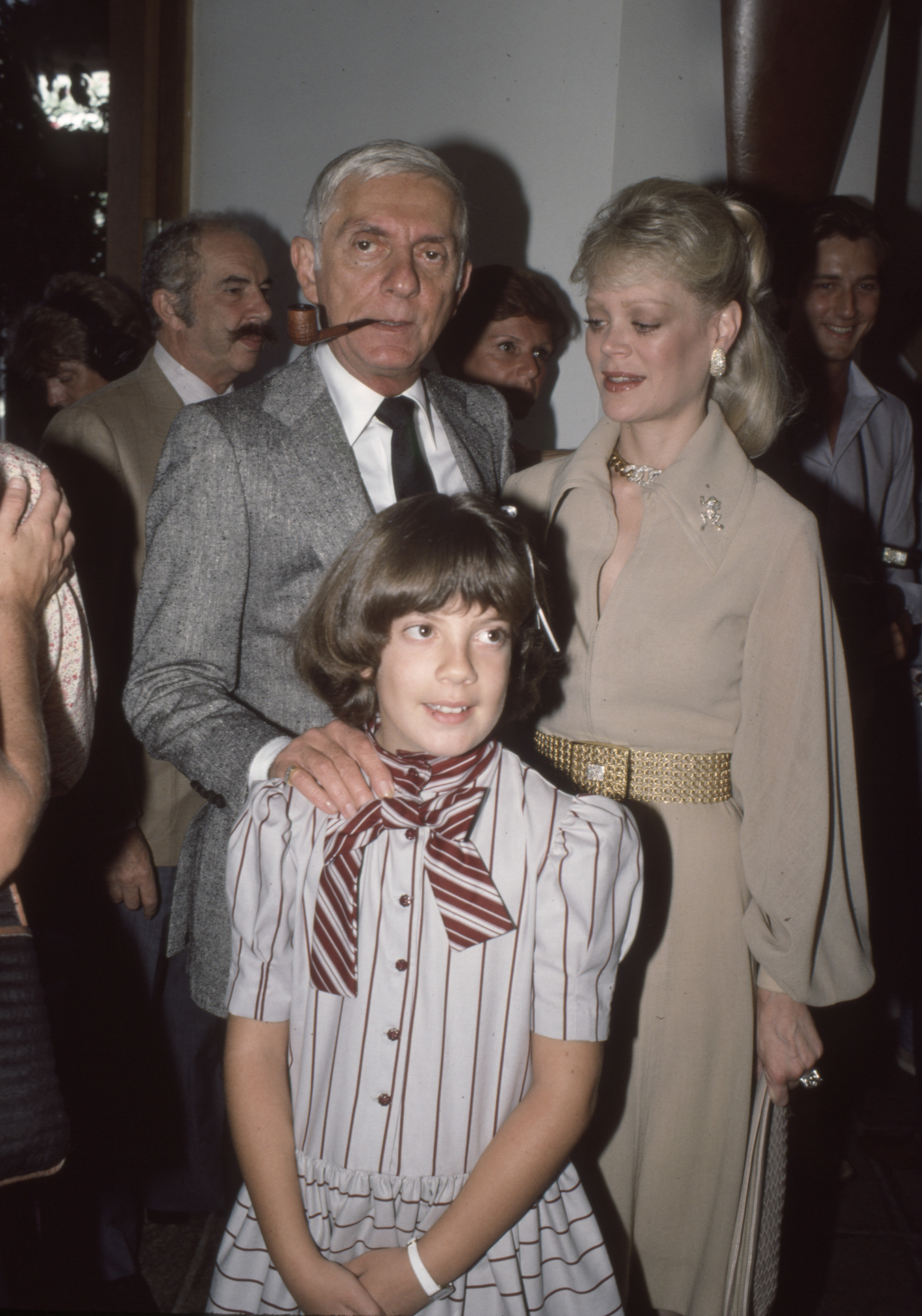 Aaron Spelling with wife Candy Spelling and daughter Tori Spelling at Beverly Hills, Los Angeles on April 21, 1984. | Source: Getty Images
After marrying McDermott in 2006, Spelling and her husband starred in their reality TV show "Tori & Dean: Home Sweet Hollywood." During this period, they owned a lavish $2.5 million estate in LA.
The Mediterranean-style mansion spanned 6,700 square feet and featured prominently in their TV show. With six bedrooms, seven bathrooms, a living room, and a dining room, the estate was a luxurious oasis.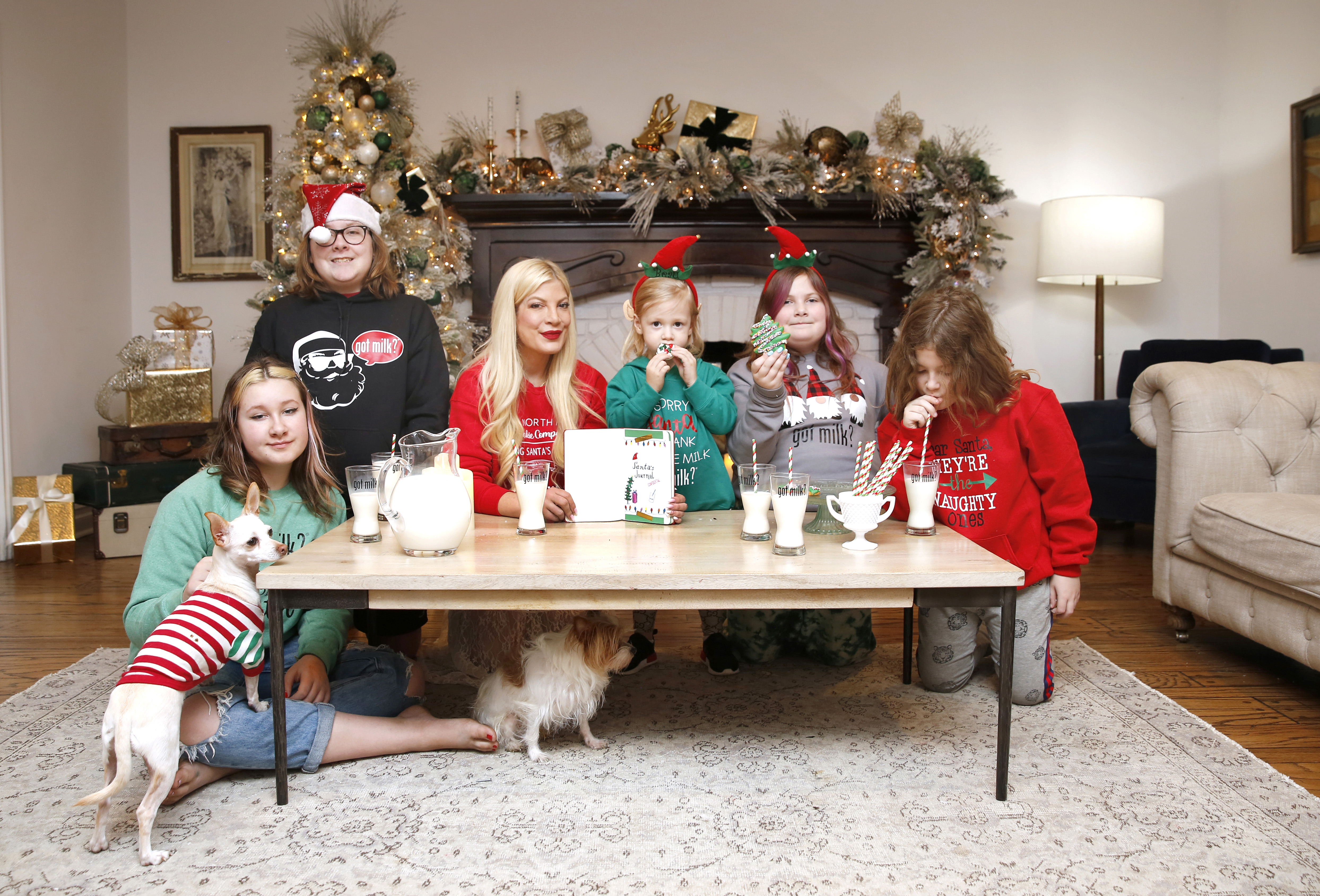 Tori Spelling and family. | Source: Getty Images
Among the mansion's features were a spacious open kitchen with an island, a dog bed, a great room that led to an outdoor lounge, and suites accessible via staircases, perfect for guests or in-laws. In 2011, Spelling had to part ways with this house, selling it for the same $2.5 million they had purchased it for.
In 2020, Spelling and McDermott moved into a stunning mansion in Santa Monica.
The 5,980-square-foot luxury home boasts five bedrooms and eight bathrooms, providing ample space for their six children.
The master suites are spacious and include walk-in closets and master bathrooms.
The mansion's interior is adorned with stained glass windows, wood beams, and a spiral staircase.
Their abode offers a plethora of amenities, including a private sauna, a swimming pool with a waterfall, a spa, and a patio.
The gourmet kitchen features granite countertops and stainless steel appliances, while the dining space is adorned with bay windows.
The living room boasts a wood fireplace and French doors that open to the backyard. The mansion's exterior features brown brick and a three-car garage.
Read More: World News | Entertainment News | Celeb News
Anomama