Iris Apfel | Iris Apfel and her godson, Oliver. | Sources: Getty Images | Instagram/iris.apfel
Fashion icon Iris Apfel recently celebrated her 102nd birthday!
Previously, the design mogul said her late husband was "like a stage mother" who supported her throughout their decades of love before he passed in 2015.
She still leads a busy lifestyle, living in her French-inspired Park Avenue home.
Legendary fashion figure, interior designer, and businesswoman Iris Apfel recently celebrated her 102nd birthday. Many big names in the fashion industry honored her and posted heartwarming tributes dedicated to the interior designer's special day.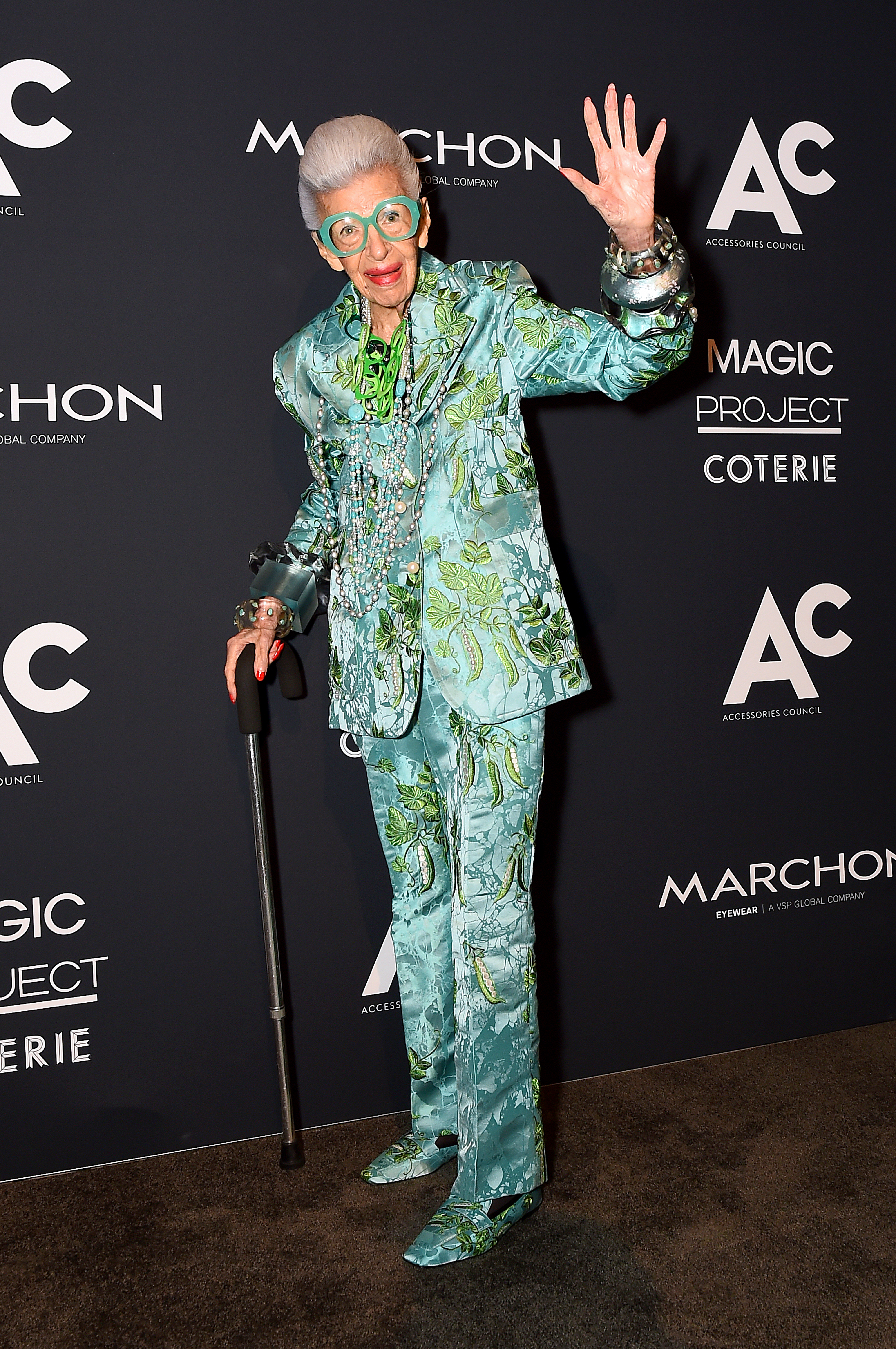 Iris Apfel at the 25th Annual ACE Awards in New York City, 2021 | Source: Getty Images
Prominent figures such as model Christie Brinkley and famous designer Donna Karan shared endearing photos and videos of them celebrating the incredible milestone with the icon. The ladies celebrated at an intimate dinner in The Hamptons and gifted the birthday girl with luxurious presents.
On August 29, the vibrant fashion icon, known for her eccentric, boisterous, and extravagant fashion statements, posted a picture of herself sitting in her apartment, dressed in a flamboyant pink outfit and holding balloons. Additionally, while celebrating the special day at Tutto il Giorno, she shared a video of her blowing out a birthday candle and expressed:
"A big THANK YOU for all of the birthday wishes this week!!!! Here's me making my wish… turns out they couldn't fit 102 candles in the strawberry."
Iris has long been a prominent and formidable force in the fashion world. Her audacious perspective and personality allow her to be different and bold. An example would be her philosophy when it comes to accessorizing, which boasts:
"An outfit isn't complete without a signature accessory, or many, to show off your individuality. Mine are glasses—the bigger and brighter, the better."
Iris Apfel Was Married for Decades to Carl Apfel Before He Passed Away
Outside of being a famous fashionista, Iris was also a loving wife to a man named Carl Apfel. The lovebirds met in 1947 and went on to marry in 1948, under five months after their first date.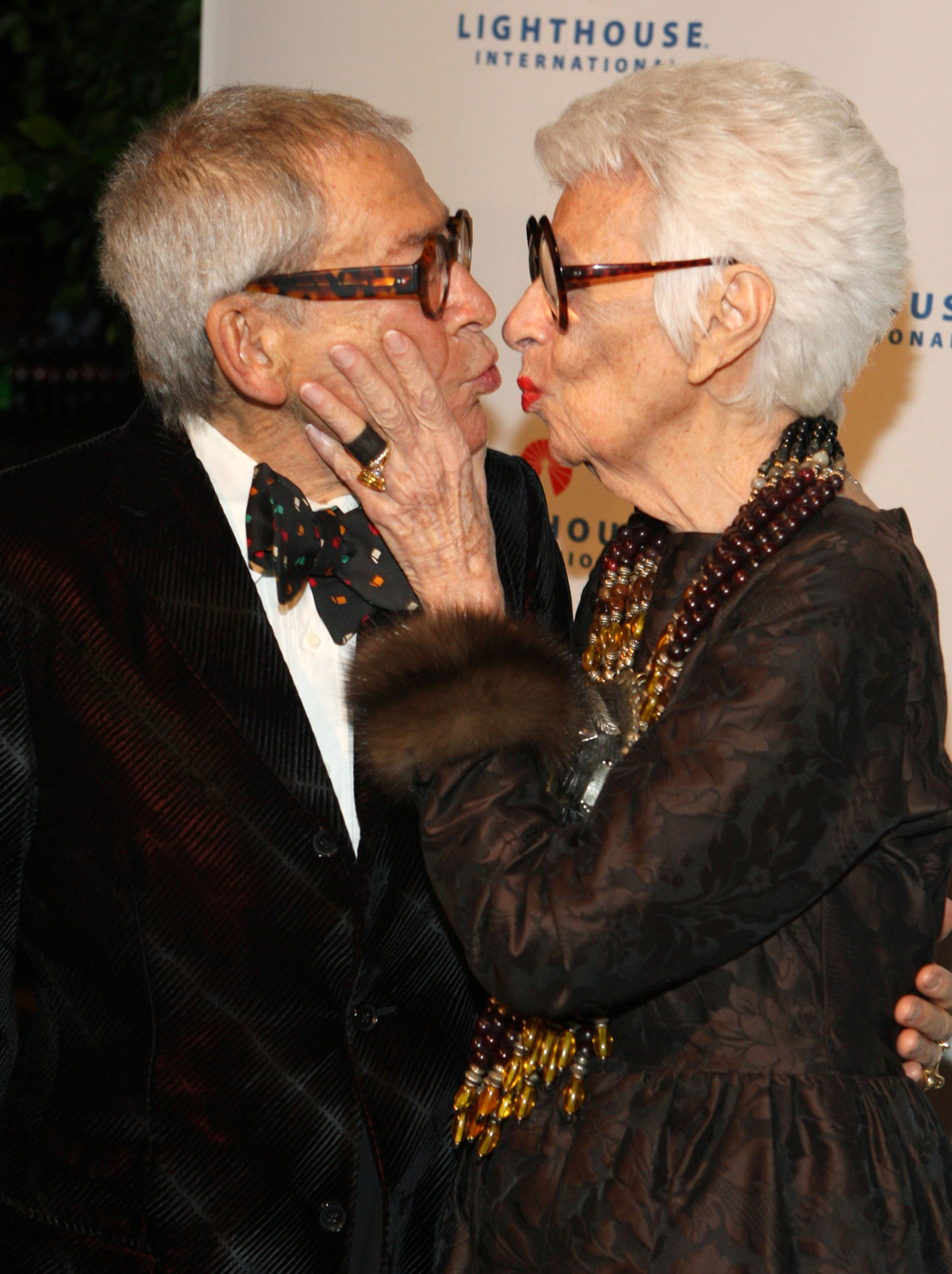 Carl and Iris Apfel at the 2008 Lighthouse International Light Years Gala in New York City | Source: Getty Images
Some time into their marriage, they started their own textile business called Old World Weavers, and the White House commissioned them to join their design team. During the running of their cooperation, they ended up decorating for nine presidential administrations and would travel the world to source various materials.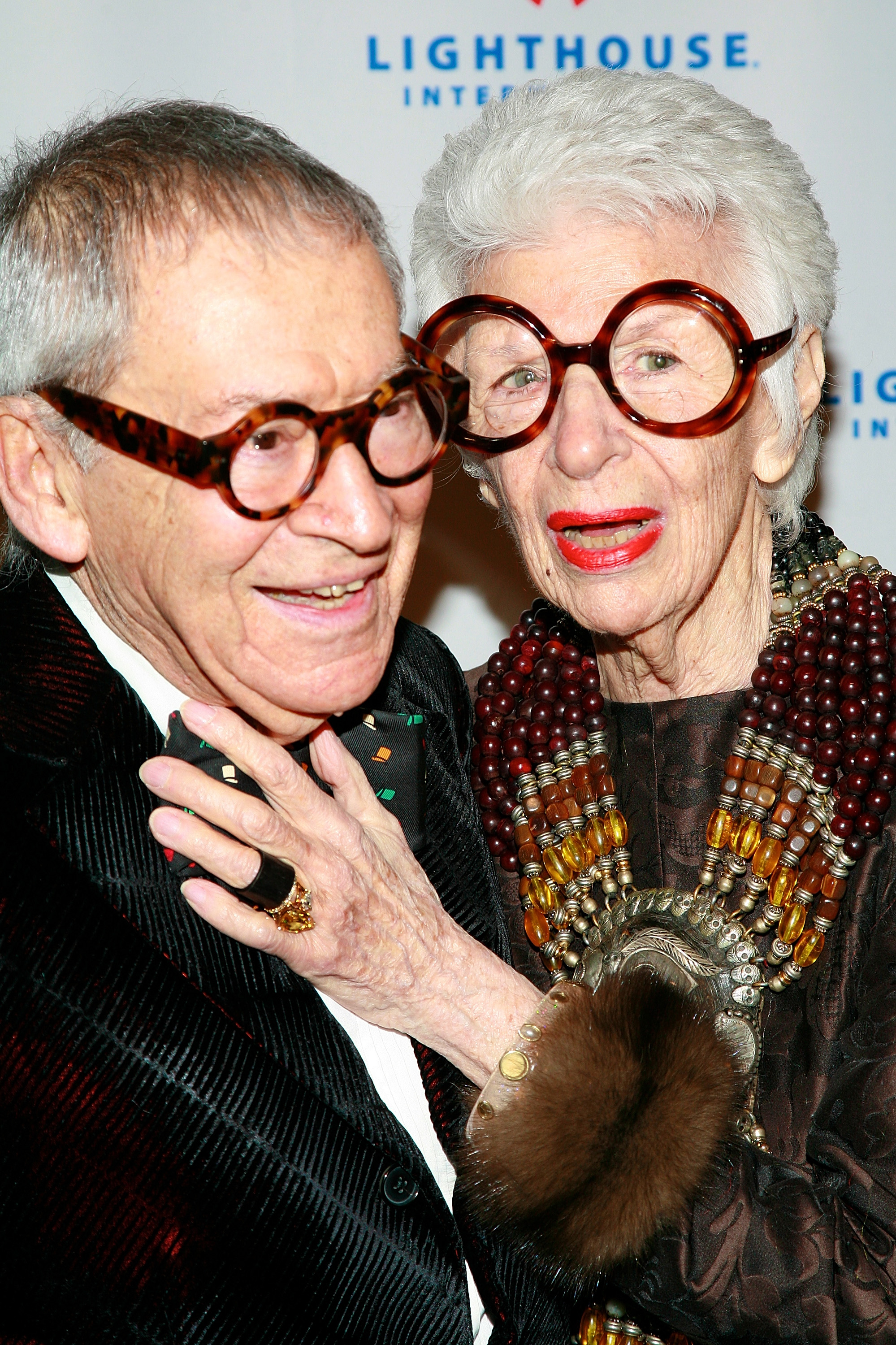 Carl and Iris Apfel at the 2008 Lighthouse International Light Years Gala in New York City | Source: Getty Images
When it came to sourcing the mediums for their designs, Carl loved to watch Iris shine at her passion. He previously expressed enjoying watching his wife craft something beautiful while he would busy himself by hanging up pictures.
Before starting their textile company, Iris and Carl had an intimate wedding with approximately 125 guests in attendance. In keeping with her extravagant and unique style, Iris wore a pink lace wedding dress, which she still has decades later, because she said she wanted something she could wear after her wedding.
Last year, she joined the Ambassador Leadership Council of the Bone Health and Osteoporosis Foundation to help advance their efforts.
Sadly, after 67 years of a loving marriage, Carl passed away at 100 in 2015, only three days before his 101st birthday. A few years after her devastating loss, Iris opened up about her grief:
"…At first I was just crushed. I didn't think I could manage, but I realized one day he wouldn't want me to sit around and mope because he was like a stage mother."
She continued to explain that her pragmatism and her luck with having a successful career, which saw her garner incredible opportunities and solid commissions, enabled her to push past her pain. Iris said she began working around the clock, from morning till night, and even on Sundays. It was during this time that she channeled her sense of loss into developing a coloring book, "IRIS The Coloring Book."
While Carl and Iris, who were extremely busy and would travel frequently, never had any kids. As for why, Iris said she was not interested in hiring a nanny, as she did not believe in a child having a nanny. She also felt that having kids was an expectation placed on people, to which she refused to be pigeonholed.
What Iris Apfel's Life Looks Like These Days
These days, the "Iris" star lives in a beautiful three-bedroom apartment in Park Avenue, Manhattan. This residence is the same one she and Carl had moved into in 1978 when she would balance her time between New York City and Palm Beach.
Architectural Digest, who profiled the French-inspired home, called it a fashionista's dream. Fit with an 18th-century French bleached-oak boiserie in the living room and Old World Weavers tapestry fabric covering the chairs; the residence perfectly compliments Iris' exuberant style.
With no kids of her own but a godson named Oliver, Iris' mornings start at 9 a.m., with the same breakfast every day: a bowl of cereal (either oats, cream of wheat, or grits), hot skim milk, decaffeinated coffee, and a glass of orange juice. According to the 102-year-old who has the same food even when she travels:
"I don't eat junk food, I don't take a lot of salt, I don't drink sodas…"
The iconic interior designer has no plans of slowing down from her busy lifestyle anytime soon. Iris referred to herself as the Energizer Bunny who thrives off multitasking. In fact, she says that even when reading books, she has to read three at a time and credits it to how her brain functions.
Iris is also involved in supporting health initiatives. Last year, she joined the Ambassador Leadership Council of the Bone Health and Osteoporosis Foundation to help advance their efforts.
The eccentric fashionista also has a love of animals. She recently collaborated with Erstwilder to create limited-edition brooches with adorable designs of dogs and cats wearing spectacles.
Iris has reached an incredible milestone when she turned 102 last month, in the midst of a still busy career. Speaking on the longevity of her career, Iris stated that she had no plans to retire:
"I think retiring at any age is a fate worse than death. Just because a number comes up doesn't mean you have to stop."
With no plans to stop working, many continue to look forward to what's next for the fashion and design icon.
Read More: World News | Entertainment News | Celeb News
Anomama