Chris Pratt as James Reece in the series "The Terminal List" | Source: Youtube/Prime Video
"The Terminal List," a television series based on a book, portrays the vengeful journey of a former military officer. Many people are curious if the show is based on a true story as the cast impressively brings the story to life.
Television series that blend crime, drama, and military elements frequently captivate their audience, keeping them on the edge of their seats. Amazon Prime Video's "The Terminal List" is certainly no exception to this thrilling genre.
The show has recently garnered public attention due to its emotionally charged scenes. Viewers often wonder whether the show draws inspiration from real-life experiences.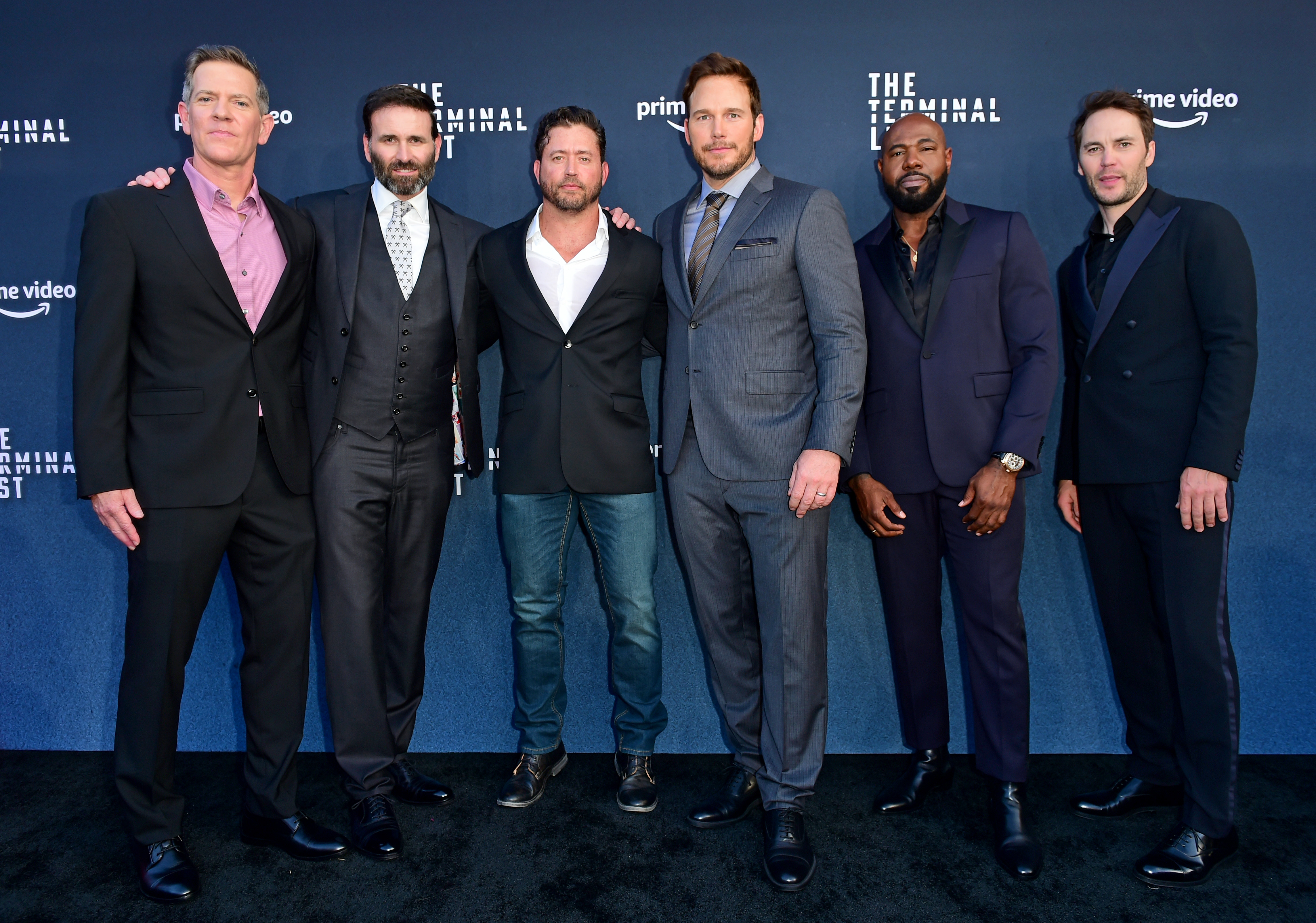 From Left to right: David DiGilio, Jack Carr, Jared Shaw, Chris Pratt, Antione Fuqua, and Taylor Kitsch attend Prime Video's "The Terminal List" Red Carpet Premiere on June 22, 2022, in Los Angeles, California. | Source: Getty Images
Is 'The Terminal List' a True Story?
Many viewers mistakenly thought that "The Terminal List" series is based on a true story, but it's actually a fictional drama that cleverly incorporates real-life elements into its narrative.
The show is an adaptation of author Jack Carr's 2018 best-selling novel of the same title. Carr's real-life experience as a former member of the Navy SEAL (Sea, Air, Land) brings a genuine touch to the character of James Reece.
The story weaves a gripping narrative around political struggles, betrayal, revenge, and the relentless pursuit of justice. At its core is Lieutenant Commander Reece, a dedicated Navy SEAL. Reece's life turns upside down after his team dies in a suspicious ambush.
As Reece returns home, the shocking revelation of his loved ones' murders exposes a deep-seated government conspiracy. Stripped of his military ties and left with nothing to lose, he embarks on a mission for vengeance against those in power.
Uncovering Differences of 'The Terminal List': Book vs. Series
Carr's novel appears to differ from its television adaptation. While the core storyline remains intact, notable differences emerge in the treatment of characters and specific events.
Interestingly, the show boasted a cast of over 25 actors with military backgrounds.
In the book, the list of names is neatly organized as follows: Josh Holder, Marcus Boykin, Saul Agnon, Steve Horn, CJNG Mexico, Admiral Gerald Pilsner, Mike Tedesco, J.D. Hartley, Lorraine Hartley, Leonard Howard, Hammadi Izmail Masood, and Ben Edwards.
In contrast, the TV series presents its own roster: Josh Holder, Saul Agnon, Steve Horn, Marcus Boykin, Navajas, Pillar, Cox, Howard, Lorraine Hartley, and Ben Edwards.
While the book mentions the name of the Mexican group, they were excluded from the series. Additionally, Tedesco's name is not on the list in the TV adaptation because he is portrayed as a sympathetic character. Masood's name was not listed as well.
In the TV series, Reece has a dangerous encounter at the hospital and finds his family dead. In the book, he comes home to find the presence of police and does not witness the attack on his family.
Another detail in the book was that Reece's wife attempted to protect their daughter by firing back at the attackers. While successfully wounded one of the assailants, she tragically lost her life while shielding her daughter. Reece's daughter initially survived but ultimately died on her way to the hospital.
The book features a scene where a SEAL team is authorized to track down Reece. In the TV series, however, it devotes an entire episode to a joint pursuit involving SEALs, the FBI, and federal marshals after Reece kills Horn.
More differences were spotted between the novel and the series. In another scene, Congressman J.D. Hartley, who was married to Lorraine Hartley in the book, is combined into one character to reduce screen time.
In the book, the congressman dies instantly after Reece delivers an explosive device to him, but in the series, the device targets Horn instead, resulting in a confrontation.
Additionally, the book details Reece confronting Horn, Edwards, and Hartely in the latter's office and rescuing Katie Buranek. In contrast, the series shows an action-packed infiltration of Hartley's compound, where Hartley takes her own life, and Buranek is held as a political captive.
With Horn dead in the TV show, Reece later deals with Edwards on a boat in a different and emotionally charged manner. This scene potentially sets up a new sequel.
Chris Pratt Shares the Screen with a Crew of Military-Experienced Actors
Pratt dedicated himself to rigorous training alongside real-life military veterans to imbue the series authentically. Most of the show's cast have former experiences as Navy SEALs, Marines, and Air Force personnel.
Interestingly, the show boasted a cast of over 25 actors with military backgrounds. It included technical advisers and writers who were military veterans.
According to series executive producer David DiGilio, the idea began with former Navy SEAL Jared Shaw, who had connections to both Pratt and Carr. It was Shaw who initially introduced Pratt to Carr's book, sparking Pratt's keen interest in securing the rights to the story.
Simultaneously, another accomplished director, Antoine Fuqua, actively pursued the rights independently. Recognizing the potential for synergy, Pratt and Fuqua decided to join forces and collaborate.
Pratt is no novice to action sequences. He has showcased his skills in various films, including Marvel's "Guardians of the Galaxy" alongside actress Zoe Saldana and "Jurassic World" alongside his co-star Bryce Dallas Howard.
Read More: World News | Entertainment News | Celeb News
Anomama