Jeff Bridges had three kids with his wife, and he loved them with all he had. They now have kids too, and their kids call him "Dude-Pa" and "Dudie." Jeff could not be more grateful for life as he recovers from his death scare while spending time with his family, including his newborn grandchild.
Jeff Bridges is a blessed man; he has enjoyed a remarkable career that involves acting in more than 60 films, many of which he played iconic roles.
He has won many awards, including an Oscar, for his performances; however, as far as he is concerned, his greatest achievement is his marriage to his wife, Susan Geston, and their three daughters, Isabelle, Jessica, and Haley.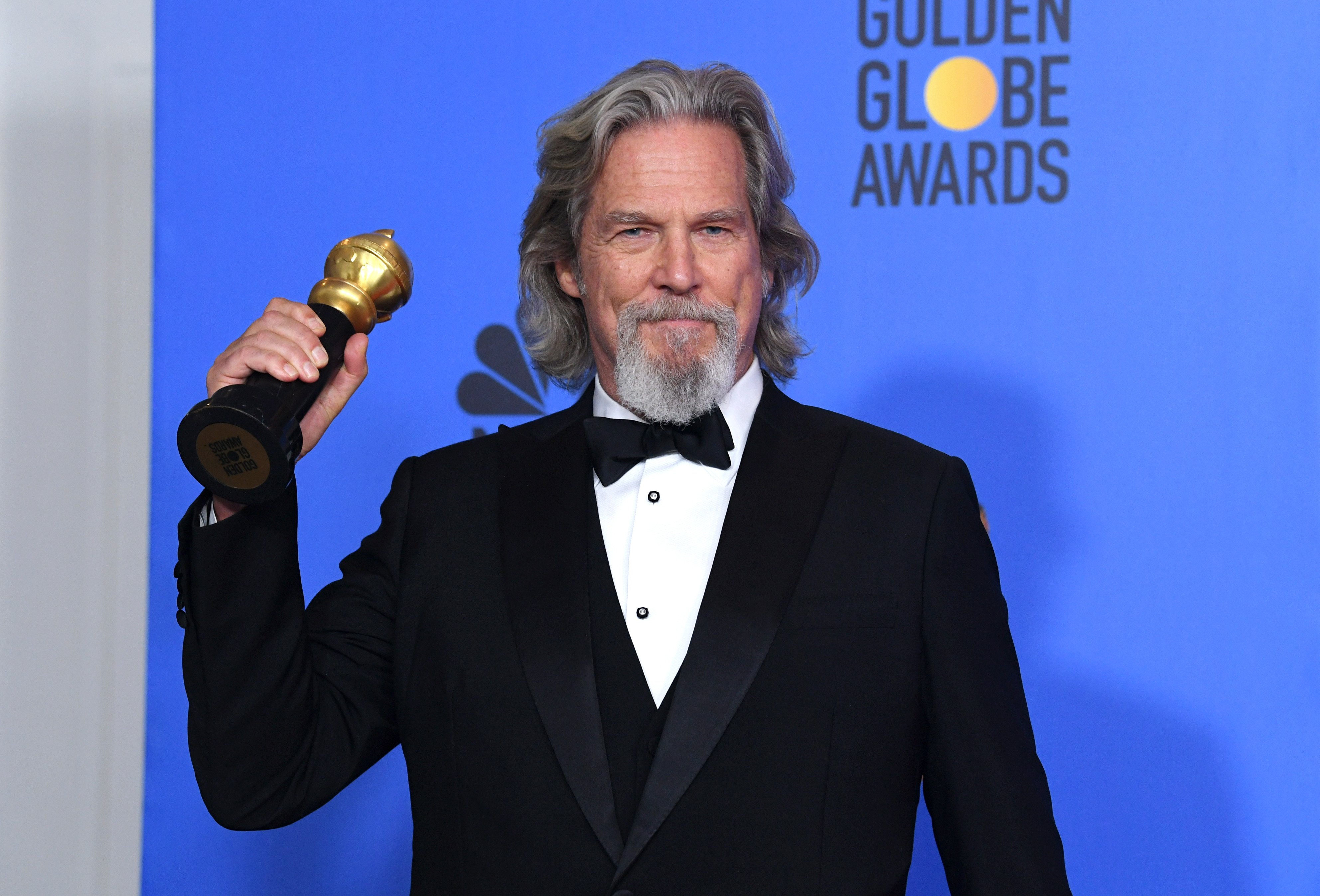 Jeff Bridges poses in the press room during the 76th Annual Golden Globe Awards at The Beverly Hilton Hotel on January 6, 2019 in Beverly Hills, California | Source: Getty Images
In the past, Jeff has referred to his daughters as his "real trophies." Jeff shares a very tight bond with his parents and older brother; he once admitted that as kids, their mom would give them the opportunity of getting whatever they wanted from her for an hour each day, and they loved it.
Having been raised in a household where kids were loved and given attention, being a parent and doing even better was essential to him. His first daughter, Isabelle, was born in 1981, while the second, Jessica, and the third, Haley, were welcomed in 1983 and 1985, respectively.
Fans of the actor caught glimpses of all three kids as they grew older because they would often accompany their father on red carpets during A-list events. Some events where Jeff's trio has stunned include the 2001 premiere of "Arlington Road," the "Seabiscuit" screening in 2003, and "True Grit" in 2010.
Given how much exposure they got as kids, it is unsurprising that Jeff's children also chose to follow in his footsteps as entertainers in different capacities.
At 19, Isabelle started pursuing a Hollywood career, and she made her debut in "Termini Station" (1989); however, according to IMDb, it is the only acting credit attached to her name.
These days, her interests have led her to become an empowerment coach for mothers, and her job is to enable mothering circles held physically as well as virtually. She is married to Brandon Boesch and has been since 2007.
Jeff's second daughter, Jessica, did not go into acting but chose to become a recognized singer and songwriter. As far as her Instagram bio is concerned, music is what makes her feel alive.
However, she has not been really active on that front; her Instagram page has not been in use since February 2020, and her official website no longer works.
The youngest of Jeff's daughters is Haley. Unlike her sisters, she chose a different part to make a living. She is a well-known interior designer in Santa Barbara, CA.
She got married to her husband, Justin Shane, in September 2021, to the delight of Jeff, who boasted about being able to walk her down the aisle on social media.
All three girls share a close relationship with Jeff and Susan. In the past, Isabelle shared a picture of the pair on Instagram and confessed that they sometimes made her feel inadequate because of who they were. She also admitted that because they are her role models, she knows how to shoot for her dreams no matter how far away they seem.
Jeff Is a Grandpa Now
Jeff raised his three daughters with love. As mentioned earlier, all three are now grownups pursuing various careers and living proudly. Of the three, two are already married and have become moms.
Isabelle, married to Brandon Boesch, welcomed their first child, Grace Louise Boesch, on March 31, 2011. The pair later welcomed a second child, a son named Ben, making Jeff a grandpa of two.
One of his girls welcomed another child this year, and Jeff has been spending time with the baby, too, even as he recovers from the illness he has been battling for some time now.
As a grandfather, Jeff presents his fun side; He insists that his grandkids call him "Dude-pa," which is a nod to his character from the hit movie "The Big Lebowski." It was because Jeff identifies very much with "The Dude" that he made his grandkids start calling him "Dude-Pa."
His doctor kept telling him to fight rather than let go because that was what he had been doing.
Unfortunately, his granddaughter, Gracie, could not pronounce the name correctly as a child, so she just started calling him "Dudie." Not that the doting grandpa terribly minds.
He Nearly Died
There is no doubt about it; Jeff has been blessed to have lived this long while enjoying all that he has. Nobody is more aware of this than the actor, who is now focused on enjoying the little things like taking afternoon walks with his longtime wife and their pet.
Fans were glad to see him up and about in February this year because it shows he is recovering well after revealing in September that his lymphoma had gone into remission following months of treatment. He said at the time:
"The 9″ x 12″ mass has shrunk down to the size of a marble."
Jeff revealed that he was diagnosed with lymphoma on October 19, 2020, on Twitter in a lighthearted manner. He acknowledged it was a serious illness but expressed gratitude for having a great team of health professionals and a good prognosis.
Jeff is famous as an optimist, and he seemed certain that he would surmount the cancer. He started chemotherapy by infusion filled with oral chemotherapy, and it worked well, shrinking the cancer greatly.
It was great news, but in January 2021, he received info from the hospital that he may have been exposed to the coronavirus at the treatment centre. Not long after, he tested positive, and the symptoms hit him hard.
He said in an old interview: "I had no defences. That's what chemo does — it strips you of all your immune system. I had nothing to fight it. COVID made my cancer look like nothing."
It was difficult for his family to see him in such pain. His wife, Susan, remembers getting a call from the hospital saying they may have to put him on a ventilator, and she agreed that they could do anything as long as it kept him alive.
Thankfully, they did not have to use the ventilator. However, Jeff had to fight for his life. According to him, his doctor kept telling him to fight rather than let go because that was what he had been doing. He said:
"I was in surrender mode. I was ready to go. I was dancing with my mortality."
It took some fighting, but Jeff won against the coronavirus just like he did against cancer. Now he is content with enjoying life's simple gifts, especially spending time with his wife and family.
Read More: World News | Entertainment News | Celeb News
Anomama