As he faced the final months of his life, a man's deepest longing was to witness his son's graduation. The catch? His son had two more years of school. Nevertheless, what unfolded next was a heartwarming surprise that made the impossible possible.
Leon Deane and his wife, Martha Deane, had a love story that started in high school. They tied the knot at the tender ages of 19 and 18, respectively. Together, they had nurtured and raised three sons in their hometown of Pioneer, Tennessee: Leon Jr., who was 30 years old, Arron, aged 24, and Ewan, the youngest at 17.
In January 2023, Leon received a devastating diagnosis that turned his and his family's world topsy-turvy: Stage 4 pancreatic cancer. At age 50, he learned this aggressive illness would likely claim his life.
As Leon battled the illness from the confines of hospice care, he faced the stark reality of a limited lifespan, measured in just a few months. Despite the heavy burden of this prognosis, he remained resilient, taking life one day at a time.
As the father and son exchanged heartfelt hugs, the depth of their emotions was palpable.
"It's been rough, mentally it's hard to deal with… you're not living fully like you should," he admitted. "We're trying to make the most of it and get everything taken care of."
A Father's Final Wish Granted
After learning that his days were numbered, the father-of-three had one final wish: to witness his youngest son, Ewan, accept his high school diploma. Leon openly discussed his desires, stating, "We just talked about some things I'd like to get done before this journey is over, and him graduating was one of them."
Initially, it appeared that fulfilling Leon's wish might pose a challenge. A dedicated football player, Ewan was only a junior at Jellico High School in Jellico, Tennessee, approximately 60 miles outside Knoxville. However, Ewan had made a promise to his father. "The promise I made to him was that I'd graduate and I'd make something out of myself," the teenager affirmed.
After hearing about Leon's wish and Ewan's commitment, the school sprang into action. In a remarkable turn of events, it took the school just 48 hours to organize a special graduation ceremony, nearly two years ahead of schedule.
On August 30, 2023, students gathered at Jellico High School, with Leon occupying the front row. As the strains of "Pomp and Circumstance" filled the airwaves, Ewan, clad in his blue cap and gown, made his way to the podium.
Principal Joey St. John conveyed in a live-streamed recording of the ceremony posted on Facebook that on that day, Jellico High School and all the communities representing the school had united to support a student and a family during a solemn phase of life. He explained that they had gathered to honor a father's wish to witness his beloved son achieve a significant milestone.
St. John noted that the father's heartfelt aspirations were for May 16, 2025, to become a reality, allowing him to witness his son's graduation. He added that they had effectively accelerated time that day, enabling the father's physical presence to align with his heart's envisioned future.
Ewan took the stage, where he was officially declared an honorary high school graduate in the class of 2025. The emotions were overwhelming for him. "I was nervous, excited, and also sad that we had to go through this," Ewan revealed. He had been homeschooled recently to spend more time with his father.
Additionally, Ewan received support not only from his teammates but also from the football team itself. The football helmets featured stickers with a football image and the word "Deane," along with a purple ribbon.
One of Ewan's teammates, Andy Campbell, expressed their collective amazement and solidarity. He mentioned that they frequently reached out to check on Ewan, aiming to uplift his spirits and improve his daily life. Campbell described Ewan as a remarkable individual, both as a friend and a football player.
Chad Seibers, a welding teacher and a close family friend, extended warm sentiments to the Deane family. He noted that the entire community had included them in their prayers, emphasizing that these prayers would persist to provide strength and support during this challenging time.
Seibers emphasized his strong relationship with Leon, mentioning their shared history and Leon's intellectual prowess. He expressed joy in their friendship, highlighting Leon's penchant for bringing laughter to those around him.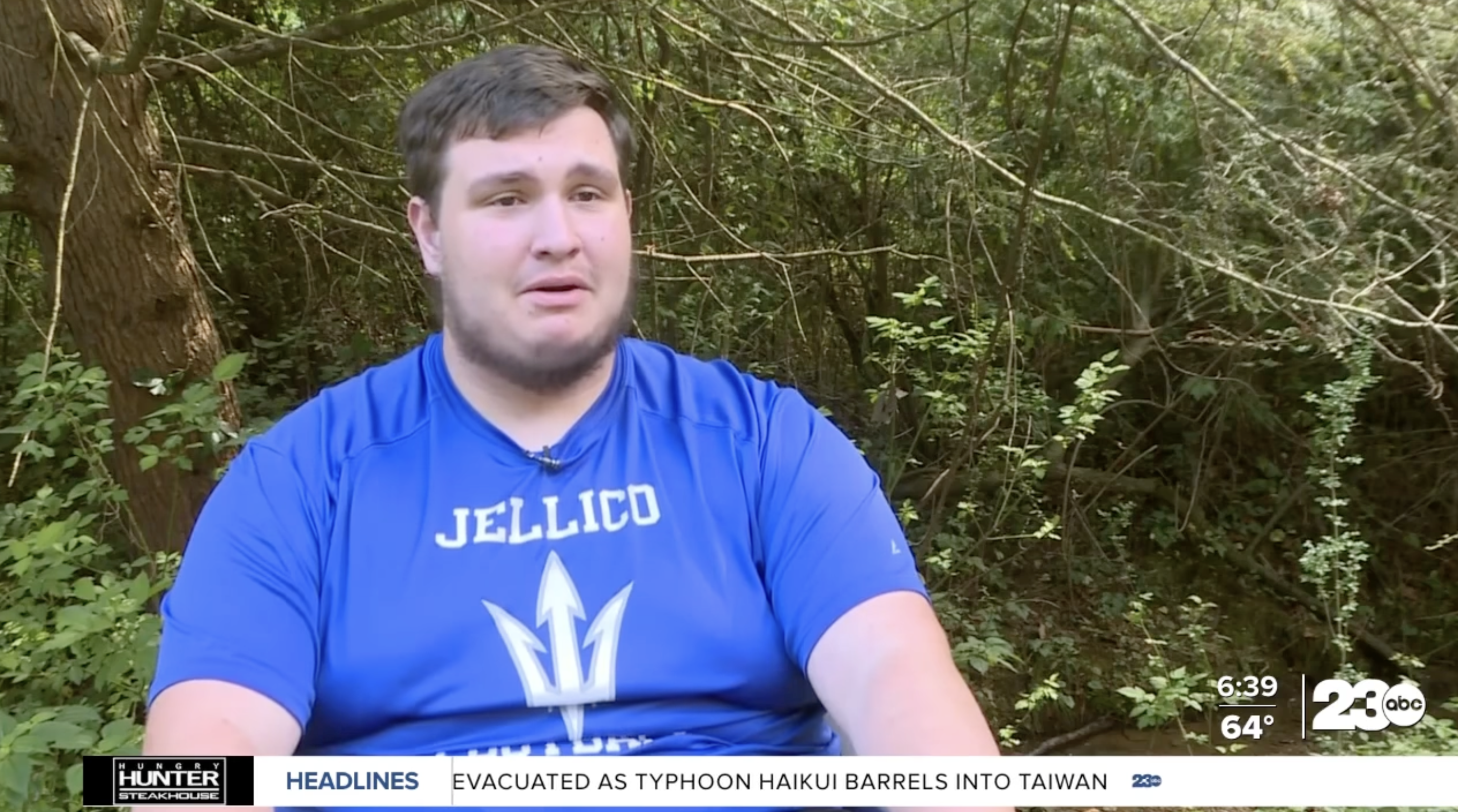 Ewan Deane gets emotional while talking about his loving father, Leone Deane | Source: facebook.com/23ABCBakersfield
In a touching gesture, the school presented Ewan and his family with a graduation cake and a restaurant dinner. Leon, profoundly moved, expressed his feelings, saying, "Extremely excited, happy, grateful," when asked about getting to witness his son participate in this special commencement ceremony. He later added, "About as proud as I can be."
Ewan, too, was thankful for the opportunity to fulfill his father's wish and pledged to complete his junior and senior years of schooling as a testament to his promise. "I'm just glad we could do this to brighten his days up," Ewan said, reflecting on his dad as "a loving man who always took care of me and my brothers and just a great guy with a big heart."
As the father and son exchanged heartfelt hugs, the depth of their emotions was palpable. Ewan, finding the perfect words to encapsulate the moment, declared, "I love you, Dad."
Click here to read another story about a son who cared for his ailing mother since he was 12. He then fulfilled her dying wish just before she passed away.
Read More: World News | Entertainment News | Celeb News
Anomama