We all like to escape into a rom-com now and then. We hope that one day, we can say, "I'm just a girl, standing in front of a boy." But then reality snaps — Fairytale over. Except for two teens who brought this magic to life.
A chocolate bar was all it took to spark a romance many could only dream of. Helen Marshall from Wasdale, Cumbria, was only a teenager when she developed a crush on a boy named Graeme Richardson at her high school.
But she was too afraid to talk to him. That is until her companion gave her a push in the right direction.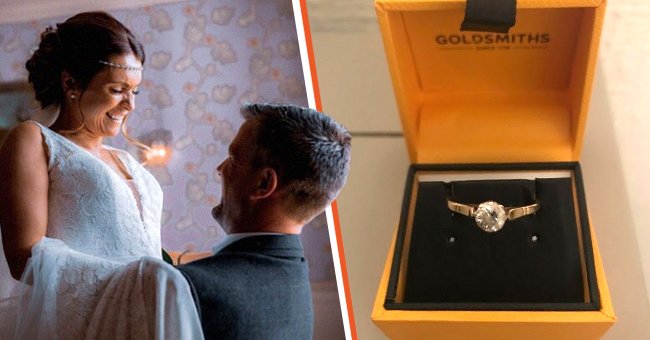 [Left] Helen Marshall and Graeme Richardson getting married; [Right] The engagement ring. │Source: facebook.com/ConfessionsAnonymes facebook.com/B987SLC
She dared Marshall to speak to Richardson, telling her that she would give her a chocolate bar in exchange.
Marshall chose to find courage from within. The teen made her way over to the boy she had been admiring from a distance.
She had no idea that Richardson himself had a crush on her too. And so, from that talk onwards, a young love blossomed into a fairytale.
A NOT-SO-HAPPILY EVER AFTER
But, the pair's relationship was much more serious than a cute high school love story. At only 15 years old, Richardson worked hard on the weekends to buy his beloved an engagement ring. He said:
"I'd seen it in the shop window of Goldsmiths in Penrith, and I knew I wanted to buy it for Helen…My friend thought I was crackers."
After the proposal, the soulmates had every intention of getting married. But, their parents disapproved because of their age.
Also, with Richardson going to college in 1994, which was 50 miles away, the two struggled to stay in contact.
Their letters never reached each other too. And so, what looked like it was meant to be a lifelong love story came to a bitter end.
So, although heartbroken, Marshall and Richardson moved on; they both found life partners and had kids. But, their children ended up going to the same school,
And so, once again, the two struggled to keep their eyes averted from one another in the hallways. However, it wasn't easy. Marshall remembered:
"He said he used to slow down every time he drove past me and watch my hair bouncing as I walked along."
They also lived close to each other — only three miles apart. The most touching of all is that Marshall had kept the wedding ring her high school lover got her all those years ago.
The pair eventually split from their partners. After this, just like the chocolate bar, Marshall plucked up the courage and sent her old flame a message on Facebook.
It turns out that their love had never died but was waiting for the pair to reignite it two decades later. The lovebirds formed a relationship again.
THE LONG-AWAITED CEREMONY
Next thing, while in Croatia, Marshall's long-lost love asked her to spend the rest of her life with him. Richardson used the engagement ring he had originally bought her at 15 years old.
The duo, now in their 40's, said their I do's on April 17, 2021, in an intimate ceremony. The wedding was complete with champagne and burgers — and, of course, the beautiful prospect of being together forever.
The new wife said that both feel completely at peace together and that they're two halves of the same person. She expressed:
"I just feel like I'm home. Like I'm whole. He's my soul mate, and I'm his. It's a true happy love story."
Marshall and Richardson were lost from one another for decades — a fact that would suggest their time as lovers would be over. But, life had something else in mind. Destiny doesn't listen to time.
Anomama